Ryan Plays Tanya's Breakup Song About Tim Tebow to Tim Tebow and OMG
BRB, we have side aches from laughing too hard. On the heels of Tim Tebow's recent engagement, Ryan Seacrest played Tanya Rad's farewell song for crush Tim Tebow to Tim Tebow over the phone on the Thursday, February 22, and the athlete's reaction was truly priceless. 
In case you missed it, Tanya has been vocal about her crush on the athlete for almost a year now. Wingman Ryan went through great lengths to connect the two, even getting Tanya Tim's number and also putting them in the same place at the same time. All the while, we failed to realize that Tim had a girlfriend, to whom he is now engaged to, and therefore Tim and Tanya never hit it off. After news of Tim's engagement to girlfriend Demi-Leigh Nel-Peters broke this past January, Tanya hilariously penned a Katy Perry parody song mourning their missed connection. 
"I've got to say that really made me laugh hard," Tim said in response to the song, which had almost the entire staff hiding behind their hands. "Well done with the whole song! It kind of makes me feel — like, I'm beyond happy — but I feel bad!"
Tanya, who impressively held it together, explained to Tim that of course it's all in good fun.
"Tim, I do have to say, I really believe my husband will have qualities similar to you and I genuinely am so happy for you — I think the world of you, but I think my husband will have similar qualities to you."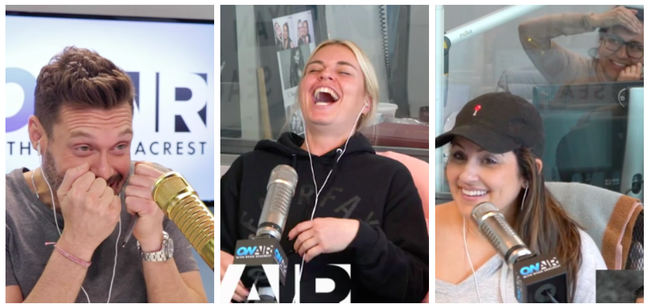 The Mets player gushed that he is indeed happily engaged.
"It's been a whirlwind, but its been great," Tim shared. "I was a little bit nervous that I wasn't going to be able to pull off all the surprises in store," he added of the proposal. "I had flown in all four of her parents and her three best friends from South Africa … I was kind of nervous I didn't know if anyone would give it away … so thankfully it all went really smooth."
SO, does Tim have someone in mind for Tanya now that the title of Mrs. Tebow has been reserved for fiancée Demi-Leigh Nel-Peters?
YES!
Watch back the LOL moment in the video above to find out who and check out Tim's new movie, which he produced with his brother, Run the Race, in theaters Friday, February 22.

Ryan Seacrest
Ryan is quite simply one of the most influential, well-regarded, and well-known names in Hollywood. He is the quintessential Hollywood insider who always manages to have the biggest scoops and the most sought after access to top events and celebrities.
Read more