Tanya Rad Mourns Tim Tebow's Engagement By Penning New Song
Tanya Rad's songwriting is the gift that keeps on giving 😂 If you remember, Ryan Seacrest attempted to set up Tanya Rad with Tim Tebow, but the connection was never made. After news broke of Tim Tebow's recent engagement to former Miss Universe Demi-Leigh Nel-Peters last week, we — along with a bevy of our listeners — couldn't help but think of Tanya.
"I can't tell you how many people tagged me in that engagement photo on their Instagram," Tanya shared with Ryan on-air on Tuesday, January 15. "This poor girl is probably like 'Who is this Tanya Rad chick?'"
In case you missed it, Tebow announced his engagement to Demi-Leigh Nel-Peters via Instagram on January 10, sharing a romantic photo of himself getting down on one knee and popping the question. "@demileighnp Thank you for saying YES and making me the happiest man in the world," he captioned the post. "You're the love of my life, and I can't wait to spend the rest of my life with you."
Ryan asked Tanya how she felt about the engagement and she hilariously revealed that she mourned the death of their potential by re-writing Katy Perry's "The One That Got Away."
"Honestly, I think that I'm happy for him. Obviously if he had wanted to date me, it would have happened, so that wasn't a thing, but I took some time over the weekend and really thought about it and he's the one that got away …" she teased before playing the hilarious rendition for Ryan.
Watch back the LOL video above to hear the song and check out the lyrics below: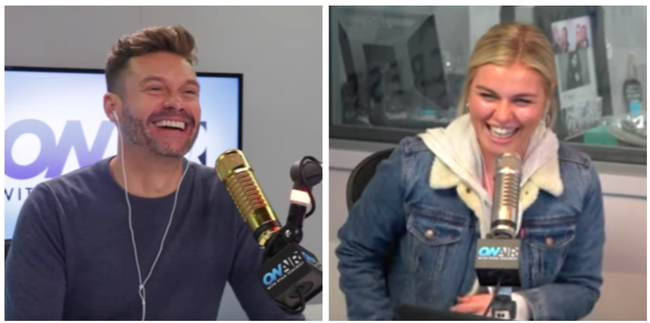 "THE ONE THAT GOT AWAY" BY TANYA RAD
ON MY VISION BOARD IN 17, BUT WE NEVER MET
WE MADE OUT IN MY FORD ESCAPE – IN MY HEAD
AND SO YOU CAN IMAGINE MY SHOCK WHEN I HEARD THE NEWS.
NEVER STOLE YOUR PARENTS LIQUOR, OR CLIMBED TO THE ROOF
NEVER TALKED ABOUT OUR FUTURE, CUZ I NEVER MET YOU
ALWAYS THOUGHT THAT MAYBE SOMEDAY, WE WOULD SAY 'I DO'
IN ANOTHER LIFE, YOU WOULD LOVE ME SO
WE WOULD TRADE OUR VOWS AND I'D BECOME MRS. TEBOW
IN ANOTHER LIFE, YOU WOULD WANT TO SAY.
I LOVE YOU SO MUCH TANYA – I CAN'T BELIEVE YOU GOT AWAY.
TIM TEBOW GOT AWAY.

Ryan Seacrest
Ryan is quite simply one of the most influential, well-regarded, and well-known names in Hollywood. He is the quintessential Hollywood insider who always manages to have the biggest scoops and the most sought after access to top events and celebrities.
Read more