Ryan Plays Wingman Between Tanya Rad and Bachelorette's Jason Tartick
This is not a drill! Ryan Seacrest is helping our girl Tanya Rad connect with her latest crush: Jason Tartick from season 23 of The Bachelorette. It all happened after Jason got sent home during Monday night's episode of the hit ABC show and after Tanya previously revealed that she'd pick Jason while talking about Becca Kufrin's suitors prior to the season kicking off earlier this summer.
"He was on The Bachelorette with Becca and Tanya early on said he's the one that she should pick. Why? Because he's the one that she would have picked," Ryan explained on-air on Friday, July 27. "… So [Tanya] feels like [they connect on a lot of things] and as we were having that conversation, we were like, 'Let's track him down!' and we got him."
Ryan then connected Jason on-air!
"Tanya! What a sweetheart," Jason exclaimed after Ryan picked up the phone and explained what was happening. "We've never met, but we've had some fun comments on social media and I think Tanya is a big Disney fan and singer too so I'm a fan of that," he added when Ryan asked if they'd met.
"This is the way 'W' started — on social media! — I do not want to go down this dead-end path again!" Ryan told Tanya after jokingly putting Jason on hold.
"No, but it's different!" Tanya reassured him.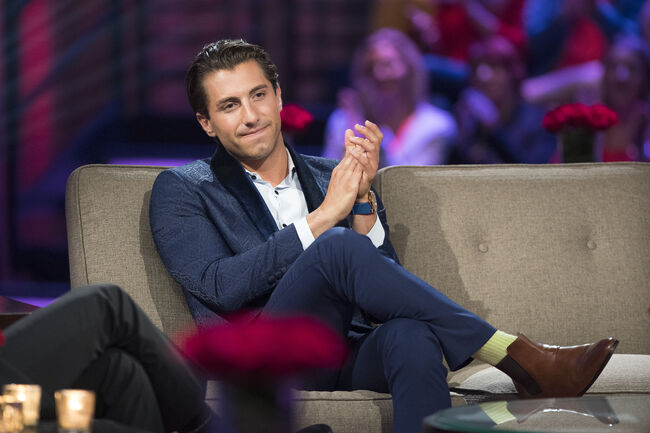 Jason, who admitted he had his heart broken by Becca and that it was tough to relive their split during Monday night's episode, is a Scorpio, it turns out, and when Ryan asked how he'd spend a day off, he shared:
"It depends on the weather: If it's nice out I want to be outside. I want to be where the people are. I love going to happy hours, but any type of event, like, anything from a Broadway show to a sporting event, I love checking things out and meeting new people."
Wingman Ryan approved and Jason seemingly passed the test. So much so, Ryan flat out asked if he could come meet Tanya!
"Could we fly you to LA to bring you in studio on Monday?" Ryan asked Jason, who lives in Seattle.
"Yeah! That would be unbelievable! Seriously?" Jason replied. "I'm sitting in a conference room and you're making me blush right now."
THIS. IS. NOT. A. DRILL! Relive the audio above and stay tuned for Monday 😱

Ryan Seacrest
Ryan is quite simply one of the most influential, well-regarded, and well-known names in Hollywood. He is the quintessential Hollywood insider who always manages to have the biggest scoops and the most sought after access to top events and celebrities.
Read more