Dr. Screen Time's New Nickname Poll Results Are In …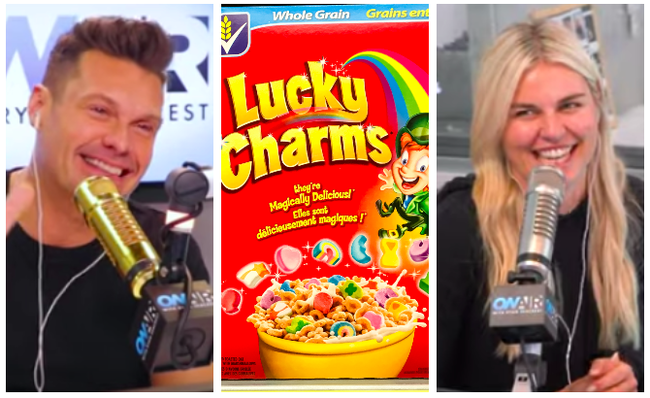 It's official: Listeners have decided the fate of Dr. Screen Time's new nickname. After taking a poll on @OnAirWithRyan's IG Stories, the world has decided that Dr. Screen Time's nickname shall be Lucky Charms. 
Lucky Charms beat out Ryan Seacrest's contender, Leprechaun. 
It all came about after Tanya revealed that the mystery man -- who was first dubbed Dr. Screen Time after their successful 6-hour long first FaceTime date -- is coming to visit for the first time and staying at her apartment. Tanya revealed on-air that she's prepared for his arrival by picking up a few of his favorite things, including, you guessed it, Lucky Charms cereal.
"You said his nickname should be Lucky Charms because that's cute and I think that is so obvious because the guy is a good-looking guy," Ryan explained on-air on Friday, July 26. "He's got a lot going for him; Let's humanize him a little bit and make him more accessible [so] I say call him the leprechaun and if you look on the box, there's the rainbow and then there's the leprechaun in the corner so it's kind of an Easter egg," he added. "I'm Taylor Swift-ing this."
"I think they're rigged," Ryan jokingly concluded once we broke the news to him that Lucky Charms won by a landslide. "… Can we call him rice milk?"
Listen back to the funny on-air moment above for more and watch back the latest Lucky Charms development above!

Ryan Seacrest
Ryan is quite simply one of the most influential, well-regarded, and well-known names in Hollywood. He is the quintessential Hollywood insider who always manages to have the biggest scoops and the most sought after access to top events and celebrities.
Read more