Sisanie Shares Her Tips on Taking Babies to Sports Events and More
It's Monday which means time for a New Mom Monday update from our girl Sisanie! The mom of twins Aiza and Maxon, who turn 7 months this weekend, took her little ones to their first Chargers game on Sunday, November 25. Their Chargers outing comes after the twins survived their first baseball game — which also just so happened to be the longest game in World Series history after the Dodgers took the win following 18 innings, 7 hours and 20 minutes.
"If going to a large sporting event, always use ear protection / noise canceling headphones," Sisanie shares in the latest New Mom Monday update. "We use BBCare which are available on Amazon."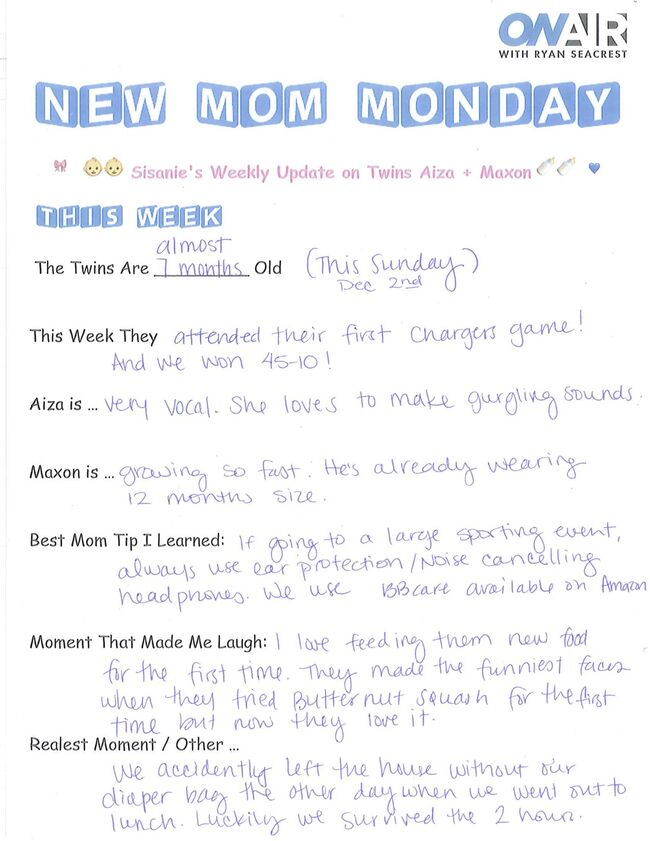 The game was a highlight for Sisanie, who has been a Chargers fan almost her whole life.
"What an awesome first @chargers game for Aiza and Maxon! They even made it on the Jumbotron!!" Sis shared alongside an adorable montage of photos on Instagram. "I became a Chargers fan almost 15 years ago when I was just starting out in radio. One of my jobs at the time was to run the board for the Chargers pre-show, game and post show broadcast. I was 20 years old and it was a 10 hour shift every Sunday... I loved every minute of it and I was then hooked to Charger Football!!! I actually met @shawnemerriman today and told him that story. I always imagined what it would be like to one day bring my own kids to games and today was such a wonderful experience. We won 45-10 and the twins did great the whole game. If you read this whole thing... I'm rambling because I'm a little borracha 😝 but also I'm just so happy and grateful for this amazing life of mine! #blessed."
Find out more from Sisanie in the latest update above!

Ryan Seacrest
Ryan is quite simply one of the most influential, well-regarded, and well-known names in Hollywood. He is the quintessential Hollywood insider who always manages to have the biggest scoops and the most sought after access to top events and celebrities.
Read more