Sisanie Reveals to Ryan If Those "Baby on Board" Car Signs Really Work
It's official, Sisanie is a mom 😂 Ryan's co-host revealed to Ryan Seacrest and Tanya Rad on-air on Wednesday, October 3, that she got one of those "baby on board" signs. Hers, naturally, says "twins on board" for Aiza and Maxon.
"I just put it on, I guess, to alert people that I do have babies in the car to be more careful but I didn't think it was going to give me the right of passage for every lane change I want to do," Sisanie revealed. "The minute I put my blinker on, the car brakes and let's me get in the lane right away."
Ryan added that he too observes baby on board signs, which are intended to be placed in the back window of an automobile to caution other drivers that an infant is traveling in the automobile.
"I was really pleasantly surprised too," Sis added. "We just went to Palm Springs last weekend and everyone's letting us get in the lane."
Tanya Rad, however, thinks getting a baby on board sign is a slippery slope ...
"I'm not rolling my eyes," Tanya hilariously said after being called out by Ryan. "I just think it's a slippery slope because I'm nervous like next week she's going to have the stick figures on the back of her car, like, 'Family of four!'"
The joke then turned that other signs should be available for all life stages.
"[There should be like a] 'Caution! Newly Single!" Ryan joked. "Hashtag road rage."
Patty also pointed out another exciting car decal: When your kids get into college!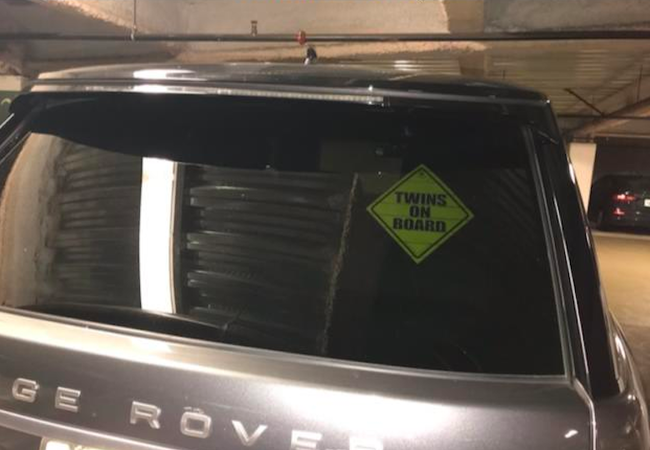 "You know what I can't wait to put on my car?" Patty added. "The license plate that says like 'Harvard Mom' or 'Stanford Mom, No. 1 UC Berkeley Mom.'"
Ryan then revealed that growing up it was cool to put a college sticker on the back of your car to pretend you were older.
"I remember when I was a kid, it was cool to put a university [or] college sticker in your back window before you were in college and when you would drive around town, people would think you were in college but you were still in high school."
😂😂😂😂😂😂
Watch back the on-air video above to hear more. Click here for Sisanie's latest New Mom update too!

Ryan Seacrest
Ryan is quite simply one of the most influential, well-regarded, and well-known names in Hollywood. He is the quintessential Hollywood insider who always manages to have the biggest scoops and the most sought after access to top events and celebrities.
Read more