Carrie Underwood Reveals "Cry Pretty" Track List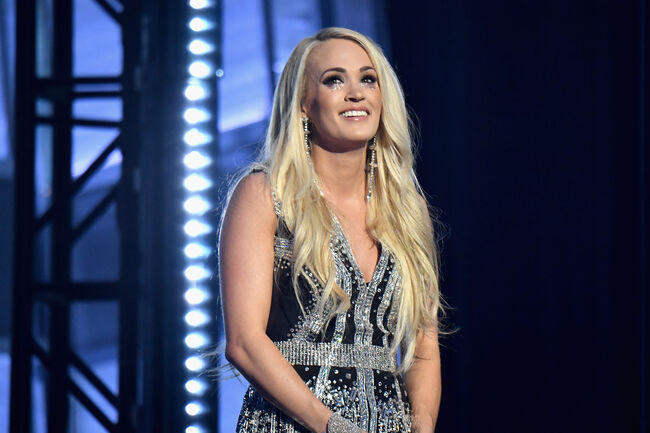 Carrie Underwood released the tracklist for her highly anticipated forthcoming album Cry Pretty on Monday, August 20, and we officially can't wait. The record features 13 tracks, including previously released singles "Cry Pretty" and "The Champion."
Cry Pretty, which drops on September 14, follows 2015's Storyteller and comes on the heels of Underwood taking a brief hiatus after enduring 40-50 stitches in the face following a scary fall outside her home.
Back in April, the American Idol alum shared that "Cry Pretty" is a special track to her. "The title refers to when emotions take over and you just can't hold them back," she explained at the time. "It really speaks to a lot of things that have happened in the past year and I hope when you hear it, you can relate those feelings to those times in your life. It's emotional. It's real. And it ROCKS!"
Underwood previously teased that the rest of the album will also reflect on the life-changing moment.
"I got to write and I got to record. Everything you do has an impact on the music, and everything you go through and live through has an impact on writing," she explained. "I feel like it maybe, I don't want to say it ended up being a good thing, but when you write you have more to write about. You're coming from a different place. … Sometimes you get together and you write a song, which is exactly what you're feeling in that moment, and that was 'Cry Pretty,' for me. I think 'Cry Pretty' sets the tone for the rest of the album, because it's emotional, and it is real, but there's also just some incredible musical moments in the song, and I feel like those things are things that will go throughout the rest of the album."
See the full tracklist below:
1. "Cry Pretty"
2. "Ghosts on the Stereo"
3. "Low"
4. "Backsliding"
5. "That Song That We Used to Make Love To"
6. "The Bullet"
7. "Southbound"
8. "Drinking Alone"
9. "Spinning Bottles"
10. "Love Wins"
11. "End Up With You"
12. "Kingdom"
13. "The Champion" (Feat. Ludacris)

Ryan Seacrest
Ryan is quite simply one of the most influential, well-regarded, and well-known names in Hollywood. He is the quintessential Hollywood insider who always manages to have the biggest scoops and the most sought after access to top events and celebrities.
Read more