Carrie Underwood Finally Reveals Details of Her Fall
Carrie Underwood is opening up about details of her accident which resulted in her needing 40-50 stitches in the face this past November. The "Cry Pretty" singer told Sirius XM's the Highway in a new interview that she tripped while taking the dogs out.
"I just fell down. I was taking the dogs out to go do their thing and I just got clumsy and I tripped," she recalled. "I held onto the dog leashes in my left hand and went to catch myself with my right and just missed a step. There's one lone step. If I had fallen anywhere else, I would have been absolutely fine, but it was because I had to catch myself."
The Grammy winner broke her wrist and also landed on her face.
"I thought I just busted my lip when I walked inside," she continued. "I went to go survey the damage and was like, 'Oh no!'"
Underwood stayed out of the spotlight while recovering and returned to the stage for the first time last week at the 2018 ACM Awards, where she debuted her new single, "Cry Pretty."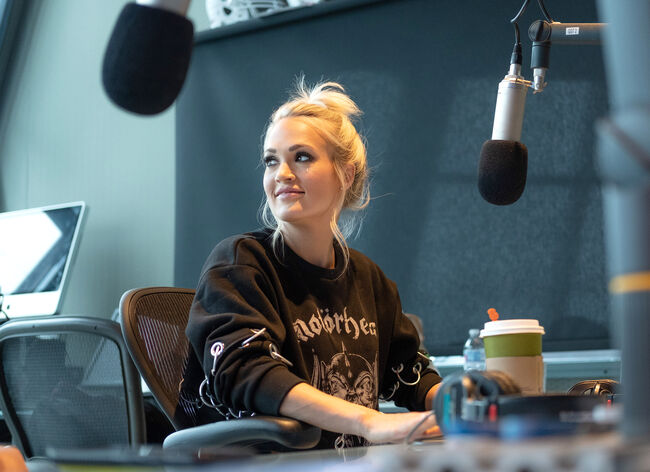 "It happened right before the holidays, so everyone was already on hiatus anyway, so that was a blessing," she added. "But I got to write and I got to record. Everything you do has an impact on the music, and everything you go through and live through has an impact on writing. I feel like it maybe, I don't want to say it ended up being a good thing, but when you write you have more to write about. You're coming from a different place."
Her single "Cry Pretty" was influenced by the accident and the American Idol alum teased that her forthcoming album, by the same title, will also reflect on the life-changing moment.
"Sometimes you get together and you write a song, which is exactly what you're feeling in that moment, and that was 'Cry Pretty,' for me," she explained. "I think 'Cry Pretty' sets the tone for the rest of the album, because it's emotional, and it is real, but there's also just some incredible musical moments in the song, and I feel like those things are things that will go throughout the rest of the album."
She concluded: "We have a lot of songs on there that are definitely emotional and kind of soulful and real and raw. There's so much love and care and heart that has gone into writing these songs, putting music to these songs. Everything has been done in such a careful and loving way."
Cry Pretty drops September 14.

Ryan Seacrest
Ryan is quite simply one of the most influential, well-regarded, and well-known names in Hollywood. He is the quintessential Hollywood insider who always manages to have the biggest scoops and the most sought after access to top events and celebrities.
Read more