Sisanie's Final Week 35 #HumpDayBumpDay Update!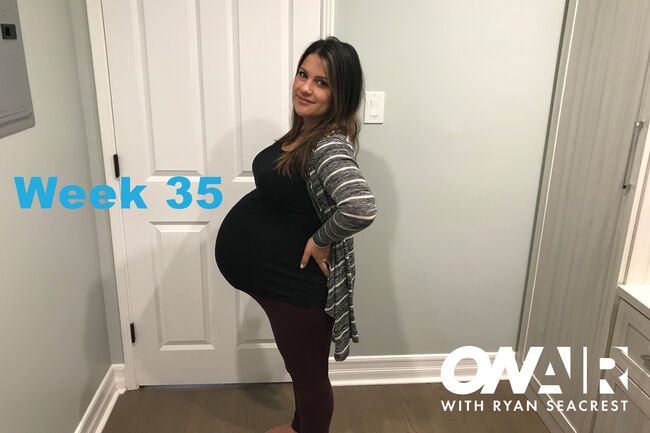 It's our final #HumpDayBumpDay update with pregnant Sisanie! Ryan's co-host is going on maternity leave next week and at 35 weeks pregnant with twins, she's ready to become a mama!
In this week's update, Sisanie, who is working from her home studio, shares that she's gearing up to give birth — contractions included.
"I basically have to pee every hour," she shared of her final most TMI moment. "The girl, who is baby A, she's pushing down on my pelvis. Her head is like ready to go. I could go into labor any minute — I've had 13 contractions already in this whole show but they're all spread out. They're not consistent. Some are 10 minutes apart, some are four. … I'm so ready for these babies to be out."
With Sisanie's hospital bag ready to go, she last purchased nursing bras and sleeping has gone out the window.
"It's so painful and uncomfortable," Sis said of her sleep. "We don't even need to talk about it."
What we do need to talk about is how her husband Michael hilariously thinks that Sisanie's laugh has changed.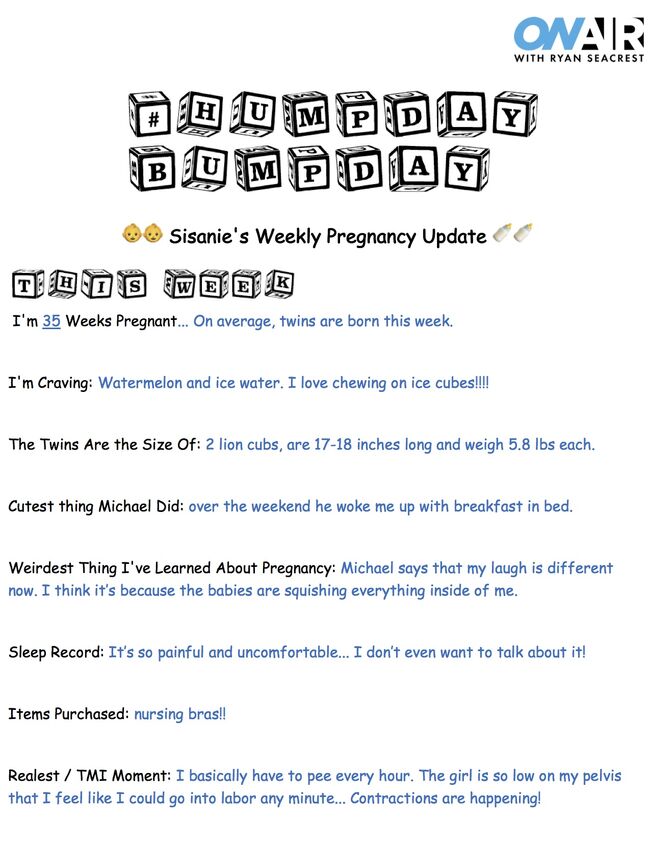 "Michael says that my laugh is different now and I think it's because the babies are squishing everything inside of me," Sis shared. "Now that he points it out, I kind of see it … he thinks it sounds like Krusty the Clown from The Simpsons."
😂
Also, for the record, Patty lost the bet for the babies' birthdate, but Tanya and Ryan are still in the running! Click here to relive when they think Twin A and Twin B are going to be born.
Find out more from Sisanie's final stages of pregnancy in the #HumpDayBumpDay update above and fret not, when Sisanie goes on maternity leave we will be starting a whole new segment checking in on the new mom called #StalkingSisanie.

Ryan Seacrest
Ryan is quite simply one of the most influential, well-regarded, and well-known names in Hollywood. He is the quintessential Hollywood insider who always manages to have the biggest scoops and the most sought after access to top events and celebrities.
Read more