Christina Aguilera Spills Mickey Mouse Club Secrets, Nails Carpool Karaoke
So much YESSS. Christina Aguilera dominated James Corden's Carpool Karaoke. The Grammy-winning songstress belted out hits including "Fighter," "Dirrty" and "Genie in a Bottle," while also dishing on some Mickey Mouse Club secrets.
"How are you doing that with your voice?" Corden hilariously asked Aguilera in the clip above after she made a growling sound during a verse in "Fighter."
Xtina and Corden then talked about her childhood growing up on The Mickey Mouse Club alongside Justin Timberlake, Britney Spears and Ryan Gosling.
"Could you find yourself getting lost in Ryan Gosling's eyes?" Corden asked her, which we've all wanted to know.
"I think there were crushes but I — I wasn't on the train," she said.
"Were you on the Timberlake train?" Corden asked.
"Um, I think, there was like a … me and Britney … well now you know there was a thing back then … it was a good time," a seemingly flustered Aguilera said. "He had swag. Back then he had swag," she concluded. "But I know Ryan [Gosling] did have a crush on Britney. I think so."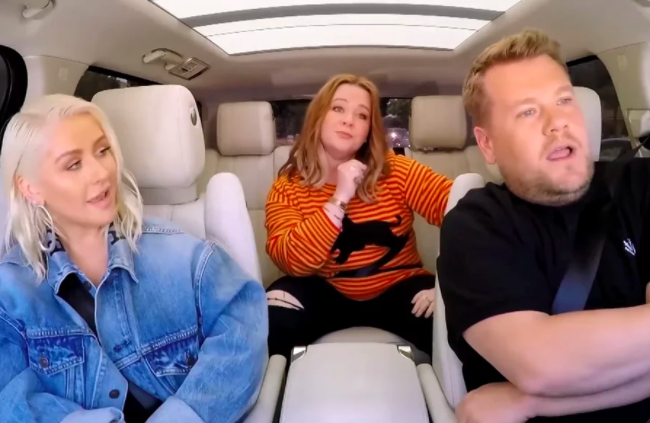 They were then surprised by none other than Melissa McCarthy, who gave a fierce rendition of Redman's rap verse in Xtina's 2002 single "Dirrty."
"You two know each other. You've known each other a while, yes?" Corden asked McCarthy and Aguilera.
"We've known each other a while," the funnywoman said. "We did a picture together — Life of the Party."
"Which we obviously are," Aguilera then joked.
Watch the amazing clip above.

Ryan Seacrest
Ryan is quite simply one of the most influential, well-regarded, and well-known names in Hollywood. He is the quintessential Hollywood insider who always manages to have the biggest scoops and the most sought after access to top events and celebrities.
Read more