#HumpDayBumpDay! Get Sisanie's Week 32 Update
Sisanie is gearing up for the arrival of her twins and we can't believe it's already been 32 weeks! In this week's #HumpDayBumpDay, Sis shares that Twin A and Twin B are the same size as two bunches of kale and each weigh about four pounds.
She's craving cheese, bananas, milk and sweets and she's now experiencing a change in temperature.
"I'm hot all the time!" Sis said. "If I could have the house at 60 degrees I would. Last night I got it down to 67 and I was still hot."
She's also suffering from insomnia and acid reflux — and not to mention those bloody noses still.
While taking bets on when the twins will arrive, Sis shared that she thinks they'll be here in no time.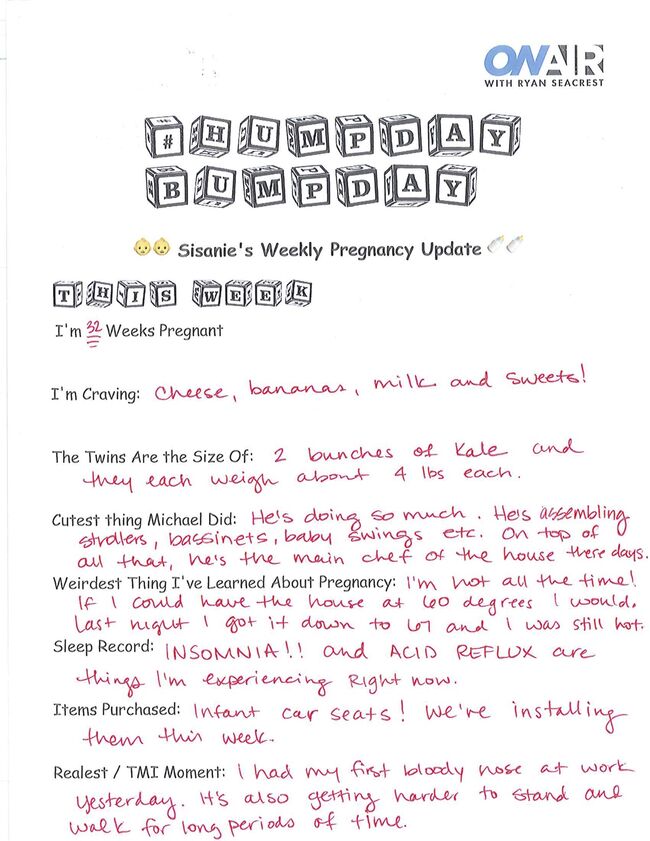 "Normal pregnancy I'd go 40 weeks and my due date would be [X] date," Sis explained to Ryan. "My doctor wants me to get to at least 38 weeks so I probably won't go past 38 weeks — that's May 16. … I'm thinking end of this month," she added. "I'm thinking they're coming this month."
Ryan, Tanya and Patty also placed bets on when they think Sisanie's mini-me's will arrive. Click here to find out which dates they've locked in!
And find out more in this week's #HumpDayBumpDay above. Stay tuned for next week's update -- they might even be here by then!

Ryan Seacrest
Ryan is quite simply one of the most influential, well-regarded, and well-known names in Hollywood. He is the quintessential Hollywood insider who always manages to have the biggest scoops and the most sought after access to top events and celebrities.
Read more