Pregnant Sisanie Is Keeping Romance Alive at 31 Weeks
It's official: We all need a Michael! Ryan's cohost Sisanie is 31 weeks pregnant, but her husband is still keeping the romance alive. After filing in for Kelly Ripa on Live With Kelly and Ryan in New York City last week, he surprised her back home.
"After my trip to NYC to fill in for Kelly Ripa, I came home to long stem roses and candles all over the house," Sisanie shares in this week's #HumpDayBumpDay.
And the trip was a memorable one for Sis too: She shared with Ryan on national TV the 4D sonograms of her twins for the first time.
"There's something that you haven't seen yet," Sisanie told Ryan at the time. "The sonogram! I have a 4D sonogram. I haven't even posted these photos on my Instagram or anything like that."
Ryan's reaction to seeing the twins for the first time was priceless.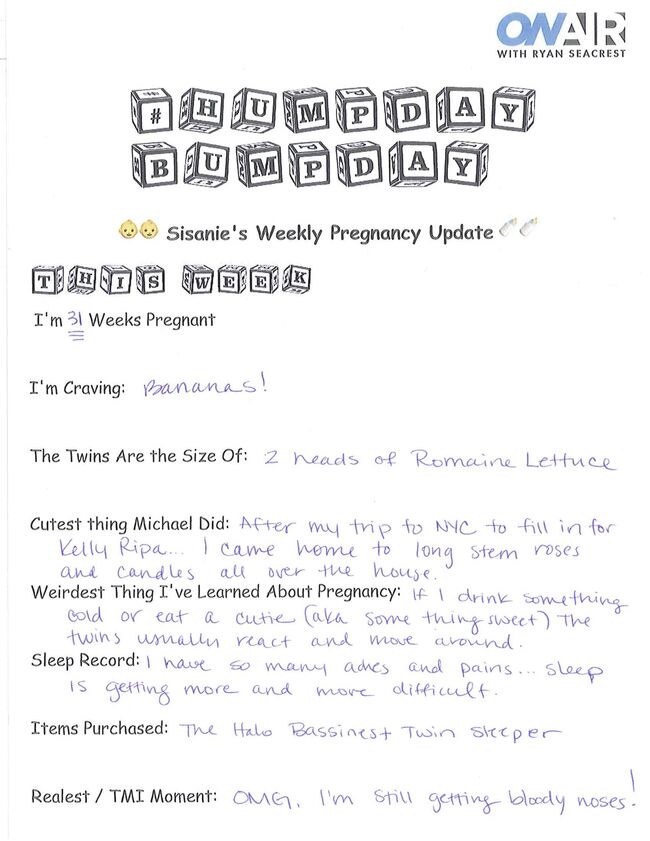 "That's a face! Oh my gosh, Sisanie," he exclaimed. "I am in love. That is so adorable. That is so sweet. I've cried more than pregnant Sisanie." (Click here to relive the moment)
With only a few weeks to go until she becomes a first-time mom to twins, Sisanie adds in this week's #HumpDayBumpDay that she's suffering from all kinds of "aches and pains" — and she's still getting bloody noses!
Find out more in this week's #HumpDayBumpDay above and stay tuned for next week's update! And mamas, sound off in the comments below if you have any recommendations for Sis as her due date draws near!

Ryan Seacrest
Ryan is quite simply one of the most influential, well-regarded, and well-known names in Hollywood. He is the quintessential Hollywood insider who always manages to have the biggest scoops and the most sought after access to top events and celebrities.
Read more