Pregnant Sisanie Reveals Most Shocking Pregnancy Revelation to Date
It's #HumpDayBumpDay and Sisanie has come face-to-face with her most shocking pregnancy revelation to date — the circumference of her belly 😂
Sis, who is 30 weeks pregnant with twins, traveled to New York City to fill in for Kelly Ripa alongside Ryan on Live With Kelly and Ryan and while shopping online for winter coats (hello, Nor'easter) she learned that her stomach is almost as round as she is tall.
"I had to measure my stomach around my belly button because I ordered some coats online for New York and it's 48 inches," Sis shared. "WTF! To put it in perspective … I am 60 inches tall."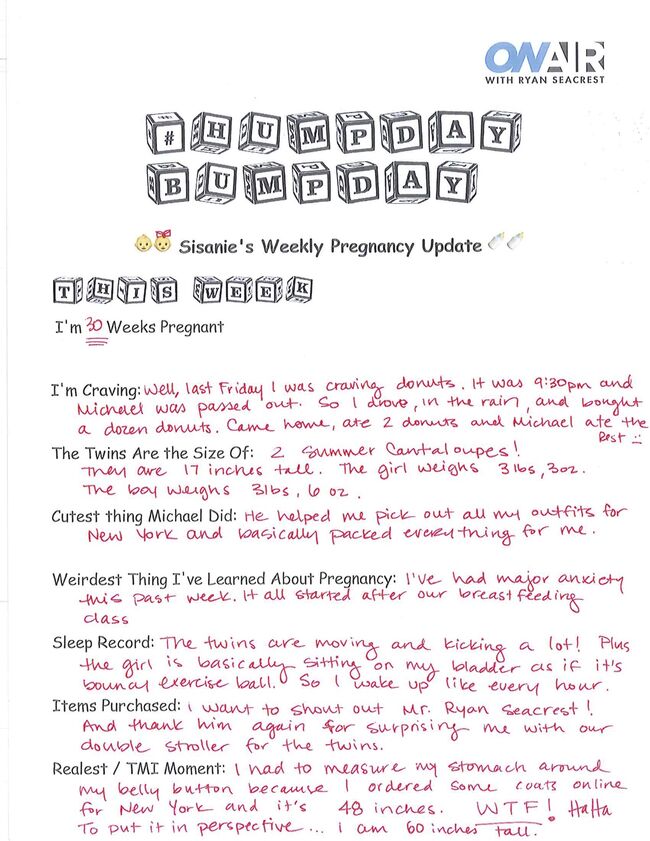 The mama-to-be is also naturally getting a little nervous as her due date nears. After taking hours of classes in preparation, Sis told Ryan on-air that her anxiety kicked in following a breastfeeding class.
Find out more in this week's #HumpDayBumpDay above and stay tuned for next week's update! And mamas, sound off in the comments below if you have any recommendations for Sis.
Click here to see inside Sisanie's baby shower last weekend if you missed it!

Ryan Seacrest
Ryan is quite simply one of the most influential, well-regarded, and well-known names in Hollywood. He is the quintessential Hollywood insider who always manages to have the biggest scoops and the most sought after access to top events and celebrities.
Read more