Sisanie, Tanya Recall Getting Turnt With Gwen Stefani: Watch Ry's Reaction
One tequila, two tequila, three tequila ... "Gwen Stefani we love you!" Sisanie and Tanya Rad got turnt with Gwen following her residency show in Las Vegas last weekend and relived the once-in-a-lifetime night on-air with Ryan Seacrest on Tuesday, July 23, and you have to watch it back. 
ICYMI, Gwen invited Sis and Tanya to attend her Vegas show when she phoned into On Air With Ryan Seacrest last month. Sisanie brought along her friend Nelson and Tanya brought pal and celebrity stylist Brad Goreski. 
"She did a little meet and greet before the show … so we said hello to her before the show and that was very normal — we were just like pictures, chit chat and nothing crazy, and then we said we'll be back in a few hours because her show doesn't start till 9," Sisanie recalled to Ryan of the evening, revealing that they then saw that Stefani giving them a shoutout on Instagram. "… Not only that, she shouted out our names, Ryan, during the show," Sisanie continued, revealing the surreal details. 
"Then," Sisanie continuned. "Someone from her team came and grabbed us during her last song and said, 'Do you want to come up and have a drink with Gwen?' And we were like, 'Are you kidding me? Yes!' Like we won the lottery. So then we went to her dressing room and we hung out for like 2 hours just us and Gwen."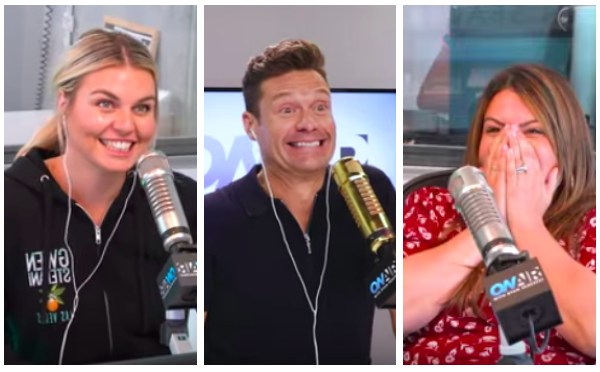 Sisanie and Tanya admitted that they drank "lots of tequila" and — yes — you can hear it in the videos 😂 
"I love so much," you can hear Sisanie slur in the audio Ryan played back on-air. "OK! Bye! We are going to Calvin Harris …"
"Sorry for partying," Sisanie hilariously concluded after Ryan aired the audio. 
Watch back the LOL on-air moment in the video above and to hear more about their unforgettable night in Sin City!

Ryan Seacrest
Ryan is quite simply one of the most influential, well-regarded, and well-known names in Hollywood. He is the quintessential Hollywood insider who always manages to have the biggest scoops and the most sought after access to top events and celebrities.
Read more