Ryan Calls Tanya's Exes On-Air After Finding Out Her Dating Habits
Tanya Rad wasn't kidding when she revealed that she makes dates take the "Love Language" quiz 😂 Ryan Seacrest got ahold of two of her exes live on-air on Thursday, December 6, and we were pleasantly surprised to find that neither of them were too freaked out.
"We the guys on the show thought that's not a great thing to bring up … within the first 30 day trial period," Ryan explained, recapping that Tanya also takes notes after dates.
While Ryan, Sisanie, Engineer Tubbs and even Jared Goff's roomie Patrick thought it was "crazy," Tanya's dates actually complied and took the tests.
"She asked me to take the test, yes," Alex, date No. 1 that we called, revealed on-air. "My [reaction] was I had heard about it and I kind of knew what love language was so I was like, 'OK, I'll take the test' just to better educate myself on what my love language was."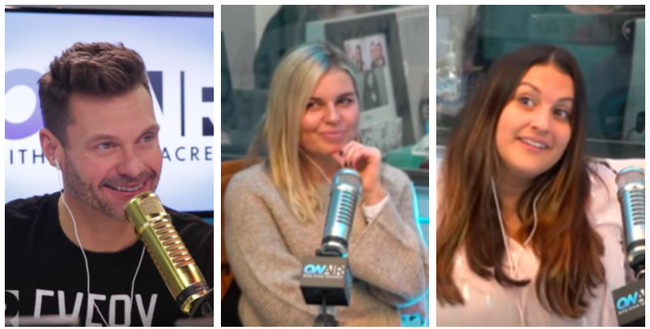 That said, Alex pointed out a key fact — the Love Language quiz also informs you if you're not compatible ...
"I think it was more educational for me," he continued of his ~*~experience~*~. "I would say I'm a guys' guy and I'm not really sensitive and I wasn't looking to learn that about myself … I wasn't looking for compatibility, but I think if your love languages are off, then you know sooner than later it's not going to work, but it wasn't like, 'Oh, this is a deal breaker' because she asked that."
Ryan also hilariously read Tanya's notes on Alex: He doesn't like cilantro and his sister-in-law is a vegan.
"She did [ask me to take the test] and I thought it was a unique way to engage in a conversation with her," he revealed. "I wasn't [afraid of it] … I thought what was more interesting was she was like, 'Hold on, let me get back to my notes on you.' So I want to know what my file says and how many files does she have?!"
Watch back both videos above because Ryan then also called Alex BACK! to attempt to reconnect him with Tanya.
To take the Love Language quiz yourself, click here!

Ryan Seacrest
Ryan is quite simply one of the most influential, well-regarded, and well-known names in Hollywood. He is the quintessential Hollywood insider who always manages to have the biggest scoops and the most sought after access to top events and celebrities.
Read more