Giuliana Connects Tanya With Potential Match and We've Never Laughed Harder
We weren't lying! Giuliana Rancic saved time for us to connect Tanya Rad on-air with a potential perfect match after stopping by the studio to discuss her return to E! News. The TV personality, who is married to Bill Rancic and lives in Chicago part time, is responsible for setting up Jason Kennedy and Lauren Scruggs, who have been happily married now for 4 years, so obviously we trust her judgement.
So the potential match for Tanya? A man named Ivan from Chicago!
"Ivan I met in Chicago, obviously with Bill, and … he just has a great personality," Giuliana explained on-air. "He's very fun. He just has a great zest for life, always smiling, and I posted him on my Insta Story one day when I ran into him … and Tanya had reached out in a funny way and she's like, 'Oh, who is your cute friend?' And that's kind of how this stated. Like, 'Hmm could Ivan and Tanya work out? Could this be a match made in heaven?'"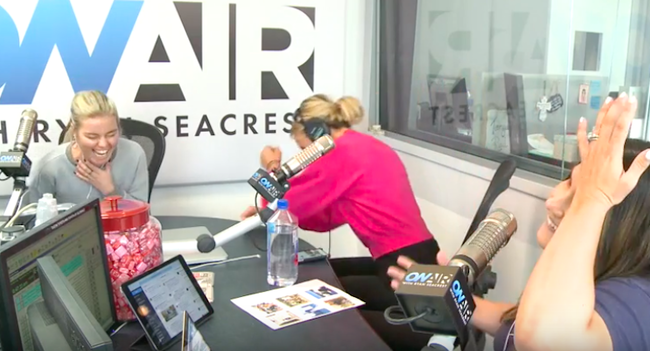 Giuliana explained that she's very diligent when it comes to her matchmaking research and then ...
WE. CALLED. IVAN!
The real estate developer, who is in his 30s, sounded adorably pleasant and polite and may have hit it off with Tanya — except our girl couldn't even form sentences!
"I've heard so much about you," Tanya attempted to say, leaving Sisanie and Giuliana cringing with laughter. "It's weird to pretend you guys aren't here!" Tanya told the room. "I have to be cool. I have to have portion control and be cool … I couldn't speak words. What's wrong with me? I speak for a living and then I get to a guy I think is cute and I'm like derrrr."
We then found out that Ivan is a Gemini and you have to see Tanya, Giuliana and Sisanie's reaction 😂 😂 😂 😂

Ryan Seacrest
Ryan is quite simply one of the most influential, well-regarded, and well-known names in Hollywood. He is the quintessential Hollywood insider who always manages to have the biggest scoops and the most sought after access to top events and celebrities.
Read more