Ryan Helps Sisanie Get Her Husband to Baby Proof the House: Watch
Ryan Seacrest helped Sisanie get her husband Michael in motion when it comes to finally baby proofing the house. Sisanie shared on-air that she's asked her hubby to child proof the house and that he hasn't gotten around to it yet, so much so, that she ended up putting the box of baby proof locks and such in the middle of the hallway 😂
"He is awesome. He does so many things for our family and I love him, obviously, but, sometimes things fall through the cracks and we have to baby proof the house," Sisanie shared on-air. "We should have done this before the babies were born really … but now they're going to start crawling any day now … so Michael said 'Of course I'll baby proof the house' and this was before when I was pregnant … It didn't happen … Then, a few weeks later, I was like 'We need to baby proof the house' so finally I got the box and just put it in the hallway and … months have gone by," she continued. "… and he didn't even notice it."
Of course Sisanie's husband Michael has been busy being hands on with twins Aiza and Maxon and also going to work full-time, but Ryan thought it would put the gas to the pedal to call Michael.
"Sis tells me that you keep walking past all the baby proofing in the hallway?" Ryan told Michael on-air, getting to the bottom of it.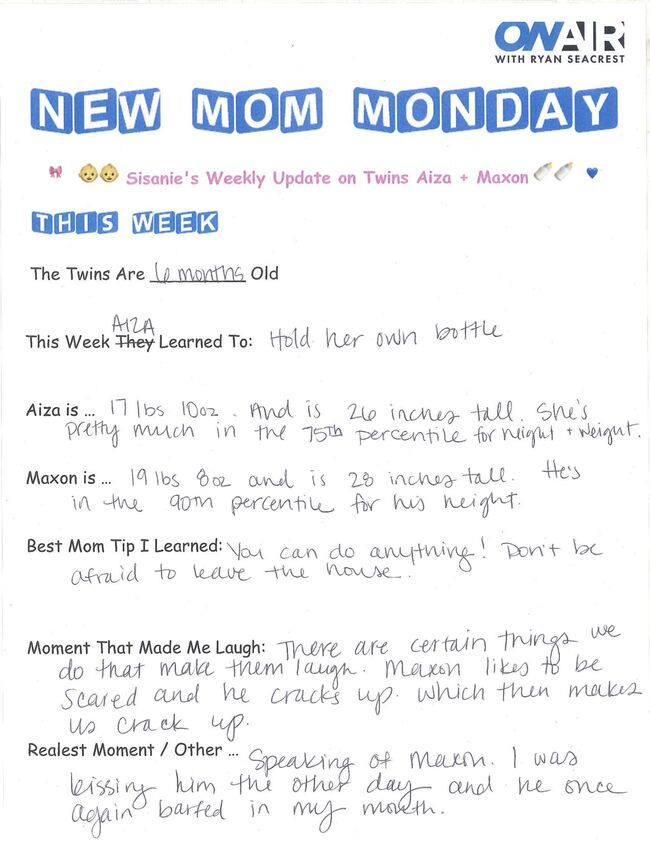 "I've heard that I keep walking past my task list" Michael hilariously said. "… I don't see the immediate danger, but let's put things into perspective here: While I'm procrastinating on this next task of baby proofing, I'm still doing a lot."
Michael joked that between putting the babies to bed and tummy time, he hasn't had a minute to get to the child proofing but it'll surely be his next task.
Watch back the cute new mom moment in the video above for more and for the latest #NewMomMonday update!

Ryan Seacrest
Ryan is quite simply one of the most influential, well-regarded, and well-known names in Hollywood. He is the quintessential Hollywood insider who always manages to have the biggest scoops and the most sought after access to top events and celebrities.
Read more