Kobe Bryant Recalls First Dating Wife Vanessa, New Podcast "The Punies"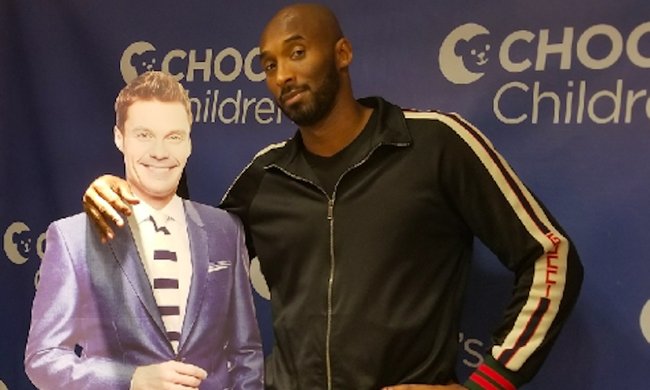 Kobe Bryant is settling into retirement just fine — in fact, he couldn't love it more. The NBA champ phoned into On Air With Ryan Seacrest on Tuesday, September 25, and dispelled rumors he's returning to the court with LeBron James and dished on his new retirement life at home with wife Vanessa and kids Gianna, Natalia and Bianka.
"I am so comfortable what I'm doing now and the content that we're creating [with new podcast The Punies]," Kobe shared with Ryan after he asked about the rumors he may be returning to the court. "I coach my daughter's team every single day; you know, I drop them at school every morning and I pick them up every afternoon; Vanessa and I can go out on date nights whenever we wan't -- like I'm really, really comfortable with what I'm doing right now nor do I have the inclination to play."
Speaking of date nights with Vanessa, Sisanie shared with Kobe that there was a rumor growing up in her neighborhood that Vanessa lived near her and that the black limo they'd see was Kobe picking her up.
"She did!," Kobe confirmed, revealing that Vanessa did indeed grow up in the same neighborhood as Sisanie, but, no, it wasn't a limo. "At that time I was driving a black-on-black Mercedes," Kobe continued. "I used to drive down and pick her up, but she had a 10 o'clock curfew so I wasn't about to get on my future mother-in-law's bad side so I was [back] there like 9:55."
The dad of three also talked his new podcast, The Punies, which revolves around fictional Peanuts and Sandlot-inspired characters.
"It's a fun podcast about sports," Kobe explained. "To me, sports is the greatest metaphor for life. I think the challenge that we have in teaching the next generation is they need practice in how to deal with the emotional challenges that are inherently present in life … When you're out playing [sports] … and you're facing these challenges … that's another moment for you to learn how to deal with these emotional challenges and how to get better at them as well."
Listen back to the full interview above for more and click here to stream "The Punies."

Ryan Seacrest
Ryan is quite simply one of the most influential, well-regarded, and well-known names in Hollywood. He is the quintessential Hollywood insider who always manages to have the biggest scoops and the most sought after access to top events and celebrities.
Read more