Ryan Pulls Off Best Wingman Moves Yet With Tanya and Glen Powell: Watch
Ryan Seacrest officially needs to add "wingman" to his multi-hyphenate. This time, Ryan stepped up his moves and brought actor Glen Powell into the studio after a listener named Clare called in last week and recommended that Tanya Rad meet the Set It Up hunk.
As Ryan explained, we had to have a purpose for bringing Glen in, and because the universe is in our favor despite mercury in retrograde right now, the actor just confirmed that he will indeed be in Tom Cruise's Top Gun 2. (Some background: Glen lobbied hard to star in Top Gun: Maverick, but lost the starring role across Tom Cruise to Miles Teller, only to be added to the production at the 11th hour in another role. That film comes out in July 2019.)
After we brought Glen into the studio, we congratulated him on the exciting news before we got down to business.
"As of yesterday, I'm officially signed on," Glen confirmed. "I can't say anything about it [though]."
That was fine, because, obviously, we had another focus: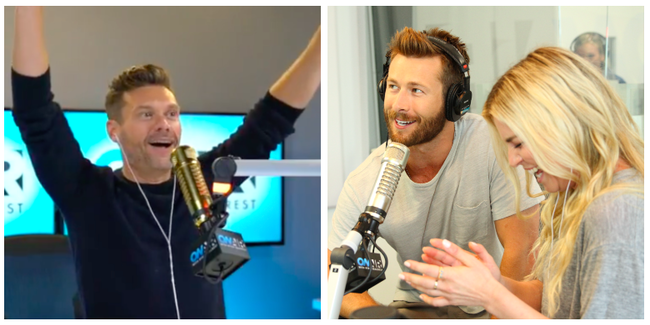 "I don't know what you know, but Tanya, she's just fascinating and a catch," Ryan started. "But the audience connects with her in a way and Clare, someone who listens to us on the regular, we were talking about you [on-air] and this film and everything and she [called in and] was like 'You should actually not have Glen Powell call in, you should have him come in the studio' and now I see why."
We then pulled the trigger on our plan: Have Engineer Tubbs cut Glen's mic so that he would have to share with Tanya — have the "voltage regulator die" — wink, wink!
"Oh! I see what's going on here!" Glen exclaimed, scooting his chair closer to Tanya's after his mic went out. "I know what's going on here. You're so transparent. … Beautiful acting job by the way. Whenever this chair starts breaking and I have to get into [Tanya's], I'll be ready," he joked, adding that our acting job "could have taken a take two."
Jokes aside, the Scream Queens alum is also gaining momentum with Netflix original movies, including the platform's most-streamed film Set It Up and newly released drama The Guernsey Literary and Potato Peel Pie Society.
"It's based on a best-selling book," Glen explained. "Its a love story set on an island in post- WWII off of England. It's really a beautiful story. You will mostly cry, but it's great. It's a great movie."
Tanya then quietly freaked out after Ryan starting wrapping up the interview.
"Wait! We didn't get to ask him, like, everything!" Tanya said, with Patty then stepping in.
Watch back the hilarious video above to relive the moment and find out what happened next.

Ryan Seacrest
Ryan is quite simply one of the most influential, well-regarded, and well-known names in Hollywood. He is the quintessential Hollywood insider who always manages to have the biggest scoops and the most sought after access to top events and celebrities.
Read more