Younes Bendjima, Khloé Speak Out After Kourtney Kardashian Split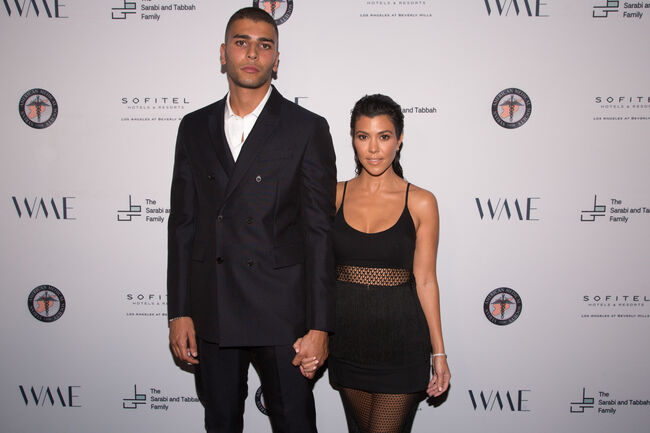 Younes Bendjima is speaking out after reports have surfaced that he's moved on from Kourtney Kardashian. The model took to Instagram Stories to respond to multiple media outlets posting photos of him cozying up to another woman in Mexico. Kourtney's sister, Khloé Kardashian, has also since weighed in on the drama, seemingly blasting the 26-year-old.
"They really want me to be the bad guy," Younes wrote alongside a screenshot of the Daily Mail's article of himself hugging a woman named Jordan Ozuna. "… Can't have fun with your friends no more," he added, insinuating they're just pals. "Dailymail where are my 12 other friendssss? Nice catch tho."
He then posted a photo of himself at lunch with a bevy of other pals with the caption "oh found them."
He continued in a separate statement: "Once again you guys failed. I'm not attached to this 'life' so you can't touch me. I know who I am where I'm from and where I'm going and that bothers you. Only one opinion matter the one of my lord. Have a wonderful day."
His posts come after multiple reports claim that he and Kourtney Kardashian have called it quits after two years of dating. Kourtney's sister Khloé seemingly confirmed the news, commenting on a post in response to Younes' statement: "Alexa play 'heard it all before' by Sunshine Anderson."
According to E! News, the two grew apart following their month-long trip to Italy together and have indeed called it quits. E! reports that two "decided to take time apart but ultimately it led to a split."
The couple previously made headlines after Younes sent Kourtney's fans into a frenzy after he commented on an Instagram photo of the reality star in a thong bikini "That's what you need to show to get likes?"
According to E!, the model would get upset about certain posts and Kourtney didn't feel the need to change.
"Kourtney doesn't appreciate Younes posting his feelings in a public forum and being impulsive," the site reported. "She's frustrated that he continues to get upset about it. She isn't going to stop doing what she's doing and feels like he needs to understand and deal with it."
Kourtney has yet to comment on the split but has since unfollowed Younes on social media and deleted a bevy of their photos together. On Monday, she captioned an Instagram photo of herself sitting on a curb "don't make me feel a way."

Ryan Seacrest
Ryan is quite simply one of the most influential, well-regarded, and well-known names in Hollywood. He is the quintessential Hollywood insider who always manages to have the biggest scoops and the most sought after access to top events and celebrities.
Read more