The Chainsmokers Drop "Side Effects," Tease Major Star Will be in Video
New music alert! The Chainsmokers Alex Pall and Drew Taggart stopped by On Air With Ryan Seacrest on Friday, July 27, and dropped new track "Side Effects."
The upbeat single features Emily Warren and couldn't be more perfect for summer.
"Our music is usually super reflective of how we are in this moment … and I think Alex and I were like 'We need to make a summer record,'" Drew shared of the new record. "There's a lot of slow — awesome — but like, slow, vibey music and we wanted to make something upbeat that's about having fun and making bad decisions and here we are with 'Side Effects.'"
The jam features lyrics which describe being awake at 4am with everything closed and nowhere to go and is The Chainsmokers latest collab with Emily Warren.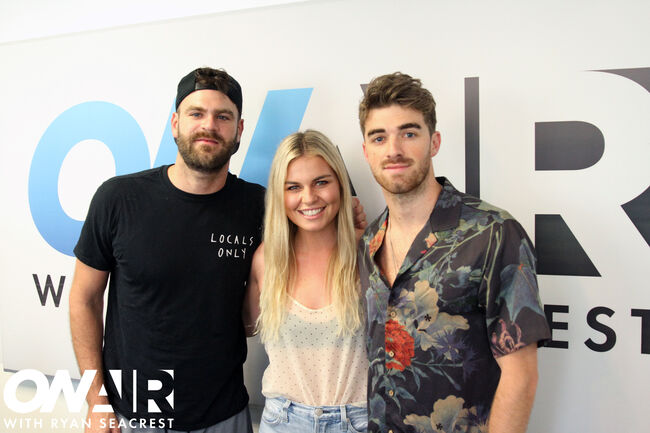 "We've written a ton of songs with her," they shared with Ryan of the songwriter/singer, who has also worked with the likes of Dua Lipa and Shawn Mendes. "The first day we met we wrote our song 'Don't Let Me Down' and she is the most fun, talented, astute, just like great person to have great conversations with and be introspective with."
Alex and Drew also revealed that the music video for "Side Effects" will be equally as epic.
"The music video, which we just filmed our part — they're filming another part in Miami — has a really amazing surprise lead actress in it," they teased, revealing "she's on a very popular show right now."
Tanya Rad guessed Riverdale and while the boys wouldn't divulge too much, they hinted "maybe."
"Side Effects" comes following The Chainsmokers January 2018 release "Sick Boy," the lead single from the duo's upcoming second studio album.
"All these songs, including 'Sick Boy' and 'You Owe Me,' and the ones we put out earlier this year, are all going to be a part of this one big album," the duo confirmed. "It's going to show so many different sides of our personality and the records are all over the place because we are literally [laughs] crazy."
Listen back to the full interview above to hear more, including how Ryan hooked up Alex with his dog trainer for new, adorable and uber-snugable puppy Mooshu!

Ryan Seacrest
Ryan is quite simply one of the most influential, well-regarded, and well-known names in Hollywood. He is the quintessential Hollywood insider who always manages to have the biggest scoops and the most sought after access to top events and celebrities.
Read more