Ali Fedotowsky Reveals Postpartum Body in 'Most Vulnerable' Post
Go, girl! Former Bachelorette star Ali Fedotowsky is being praised for being one brave mama. The mom of two took to Instagram to share honest photos of her postpartum bikini body, revealing she has "loose skin" and "extra fat" since welcoming her second child, son Riley, with husband Kevin Manno this past May.
"This might be my most vulnerable post on Instagram ever. I've gone back-and-forth 1 million times in my head on whether not I wanted to post it," the 33-year-old former reality star captioned an Instagram of her bikini body. "But at the end of the day, I know it's important to be open and honest about my postpartum body in hopes that it helps even one person out there who is struggling with their own body image."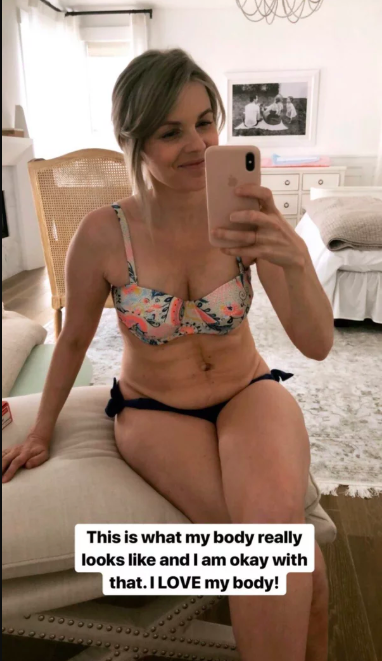 "If you swipe to see the second photo in this post, you see that my body has changed," she added. "My skin around my stomach is very loose and stretched out, I'm 15lbs heavier than I used to be, and my cup size has grown quite significantly."
The blogger also shared to her Instagram Story, revealing the "extra fat" and the "loose" skin around her belly, admitting she was "so nervous" to do so and writing, "This is what my body really looks like and I am okay with that. I LOVE my body!"
She concluded that she posted the photos to reveal to her fans that she hasn't "bounced back" and that she's just good at selecting her clothes etc.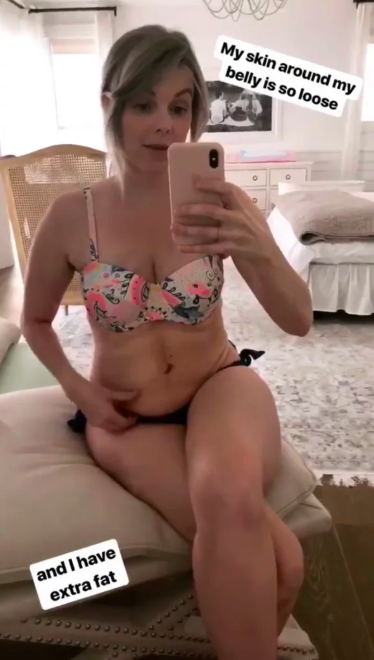 "I've gotten so many comments from people on my recent Instagram photos saying that they can't believe how much I bounced back to my pre-pregnancy body. Or someone will say something like, 'I wish I looked that good after having a baby!' " she wrote. "And while I appreciate the positive comments, you guys are always so good to me, I keep trying to explain that I'm just good at picking out clothes that flatter my body and hide my tummy. …I haven't completely bounced back and that my body has changed – a lot! But as much as I say that, I feel like it's hard to believe unless I show you guys. I want you all to see me as I really am, and to know that I'm not perfect and I struggle with my postpartum body just like many other women out there do."
The mama is being praised for opening up about her postpartum reality.
"Love this. Amazing!!! Thanks for sharing! ❤️🙌🏼" one person commented, while another added: "Thank you for being real! Im almost 2 years post partum and my prevaby body is far from back. Sometimes i get discouraged and feel bad about myself but realize that im healthy and my body did an amazing thing! And its OKAY if my stomach is never flat again."

Ryan Seacrest
Ryan is quite simply one of the most influential, well-regarded, and well-known names in Hollywood. He is the quintessential Hollywood insider who always manages to have the biggest scoops and the most sought after access to top events and celebrities.
Read more