Shawn Mendes Reacts to Hailey Baldwin, Justin Bieber Dating Again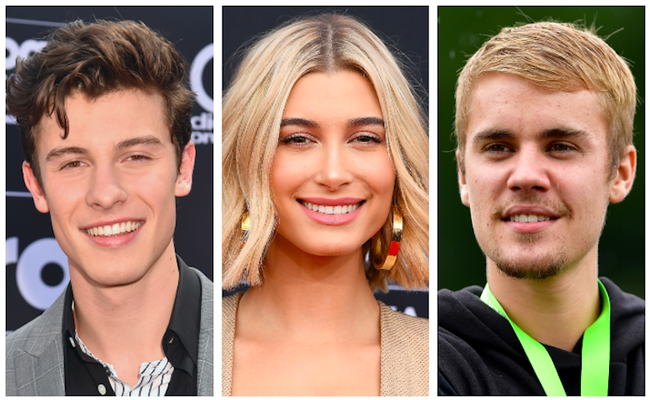 Shawn Mendes approves of Hailey Baldwin and Justin Bieber rekindling their romance. The "Youth" singer told Canadian entertainment show ETALk on Monday, June 18, that he thinks it's "awesome" the former flings are dating again.
"I think that's awesome," he said. "I love them both. They're both really awesome people. When I first started out, everybody was like, 'Oh, how do you feel about being compared to Justin?' I was like, 'What do you mean, how do I feel?' That's the best thing anyone could say to me. He's the man."
Mendes and Baldwin were rumored to be dating and fans speculated they were confirming their relationship by walking the 2018 Met Gala red carpet together, but during an interview with Ryan Seacrest, Mendes explained they're simply just "friends."
The model and Bieber have, however, made it clear to fans they're more than just friends.
After jetting off to Miami together, where they enjoyed a private dinner and then hit up LIV nightclub, they were spotted kissing at a public park in Brooklyn, New York, on June 16.
"Hailey has always loved Justin and they have been best friends, so it's no surprise that they're hooking up again," Us Weekly reports, adding that Bieber "always has a special place" in Baldwin's heart.
The "Sorry" singer most recently dated on-again, off-again girlfriend Selena Gomez following her split from The Weeknd and after she underwent an emergency kidney transplant. The two have since fizzled out and according to People magazine, aren't in contact at all these days. E! also reports that Gomez has moved on from Bieber once more.
"She respects him as a person but has decided she is much happier doing her own thing," one source told the site. "Selena rarely even talks about Justin anymore, and is fully open to dating. You can never say never with her and Justin, but at the moment they aren't in contact and she's feeling very strong and content."
Photos: Getty Images and Twitter

Ryan Seacrest
Ryan is quite simply one of the most influential, well-regarded, and well-known names in Hollywood. He is the quintessential Hollywood insider who always manages to have the biggest scoops and the most sought after access to top events and celebrities.
Read more