Watch Tanya Try to Trick Engagement Details Out of 'Bachelorette' Becca
Season 14 of The Bachelorette has ended in pure bliss for bachelorette Becca Kufrin. After suffering through a devastating breakup and broken engagement on national TV with ex Arie Luyendyk Jr., Becca gushed to Ryan Seacrest and Tanya Rad when she stopped by On Air With Ryan Seacrest on Thursday, May 24, that yes, she's engaged!
Tanya Rad previously chose four of her favorite of the 28 suitors and showed Becca her cheat sheet during the interview, sharing that she thinks Jason, a 29-year-old senior corporate banker, will be the one.
"Oh! OK! Maybe? Who knows?" Becca coyly responded, not giving us much intel, rightfully so.
Attempting to pry aside, Becca is indeed happily engaged.
"It's true!" she gushed to Ryan. "I can't wear [the ring] until after the final rose unfortunately. It has to stay a secret. The ring will be revealed with the man."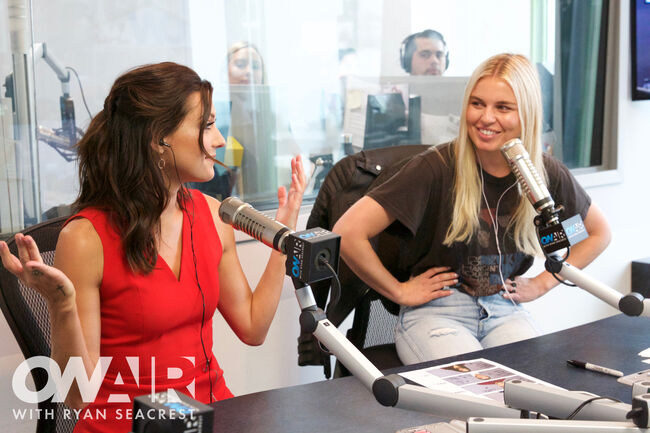 The 28-year-old publicist previously confirmed the happy news ahead of the premiere, telling People magazine: "I am engaged! It was the happiest moment of my life. And it feels so good to say it. I still pinch myself, like, did that all just happen? It's been a whirlwind."
So how did she bounce back from that gut-wrenching breakup with Arie which only happened months ago?
"It was crazy to go through all of that and people have questioned 'Are you ready? What was going through your mind during the breakup? Are you upset that it was filmed?' But really … it lead me to this place to meet 28 guys so really everything happens for a reason," Becca shared. "I can only thank him because it launched me here."
Watch back the full interview above and click here to find out more, including if The Bachelorette is scripted like UnReal or not.
Tune into the season 14 premiere of The Bachelorette on ABC on Monday, May 28, at 8 p.m. Click here to meet all 28 contestants!

Ryan Seacrest
Ryan is quite simply one of the most influential, well-regarded, and well-known names in Hollywood. He is the quintessential Hollywood insider who always manages to have the biggest scoops and the most sought after access to top events and celebrities.
Read more