Melissa McCarthy Talking About Working With Her Hubby Will Bring You Joy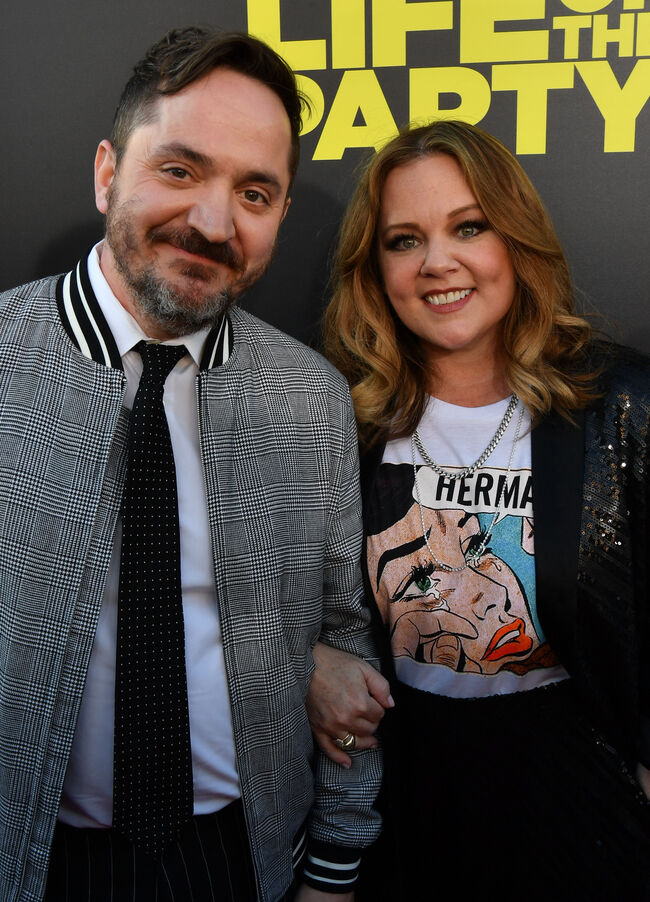 To say Melissa McCarthy and her husband Ben Falcone have fun working together is an understatement. The funnywoman phoned into On Air With Ryan Seacrest on Friday, May 11, to chat about her latest comedic collaboration with Ben, Life of the Party.
In the hilarious flick, McCarthy plays Deanna, a newly divorced housewife who enrolls at Decatur University to study archaeology — but there's a catch, its the same school her daughter attends.
Melissa explained to Ryan on-air that her character and her character's husband, played by Veep's Matt Walsh, go on a second honeymoon when all of a sudden he declares he wants a divorce.
"My whole world kind of crumbles," she added of the plot, "and I decide to go back to college to finish, but I go back to the campus that my daughter is currently [enrolled at]."
In real life, Melissa and Ben, who directed and produced the film, are parents to daughters Vivian, 11, and Georgette, 8.
"I was like 'We should do that with our girls!'" Melissa recalled. "I was like 'They will love it!' He kept saying, 'No, that's the point of conflict.' So I went and asked my girls and he's like 'Yeah, at 11 and 8 they think it's a great idea, at 18 they're going to be like how about we don't do this.'"
Melissa added that working together with Ben is a blast — especially when it comes to the improv.
"That's the fun of it. It's this weird ping pong match that's kind of not competitive," she said of working with her hubby and the improv that ensues. "We work so hard on the script … we work on it as if it's about to turn into like powder if we don't keep touching it and moving it and then we get on set and the second you look into someone else's face, I'm going to say something different and he goes, 'We worked so hard only to have you not say it.' I don't know why I do that! I usually do it once the way written so we have it … but when you're starring at Julie Bowen who is saying terrible things to you and Matt Walsh was being a horrible, horrible person and making me laugh so hard its always going to make you want to say something else … I just love that Ben runs the set where it's like say what you want, if something really feels right, say it, and let's see how it goes."
Cue #RelationshipGoals.
Life of the Party hits theaters today.

Ryan Seacrest
Ryan is quite simply one of the most influential, well-regarded, and well-known names in Hollywood. He is the quintessential Hollywood insider who always manages to have the biggest scoops and the most sought after access to top events and celebrities.
Read more