Bazzi Hilariously Recalls Paying a Kid to Do His Homework
20-year-old artist Bazzi has taken off ever since releasing his hit track "Mine" in October 2017. iHeartRadio's On the Verge Artist stopped by On Air With Ryan Seacrest on Friday, May 4, and shared with Ryan Seacrest his journey to fame and what inspires his music.
"Music has always been the destination," Bazzi said. "I moved to LA four years ago [from Michigan and went to Santa Monica High School] halfway through my senior year. I didn't have any connections or any friends, but I knew that if I was here I'd figure it out and get myself in the right room."
Bazzi eventually found himself in the right room and graduated from high school thanks to the help of a friend. The "Mine" singer hilariously recalled that because he spent so much time making music, he didn't have free time to study.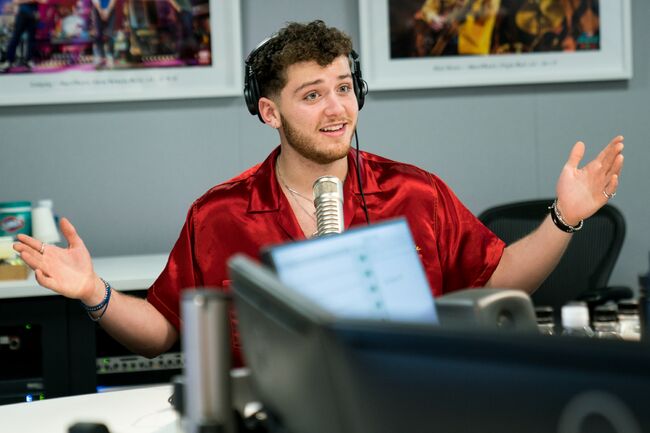 "I got in my first studio session and I realized that was it. My ability was in creating music, in producing and songwriting and for the next four years I didn't leave the studio. I was halfway through my senior year. I paid some kid to do all my tests and my homework," he admitted. "I was crushing it. [My teacher was] like, 'You're smart!'" he joked.
After three years of honing in on his skill, Bazzi is now touring with Camilla Cabello, has released a debut album titled COSMIC and is embarking on his own headlining tour.
"This is my first headline tour I've ever done so I didn't know what to expect ticket wise," he said. "How bad do people want to see me? We put a presale out … and six of the cities already sold out … it's surreal. I really wasn't sure."
The "Why?" singer credits his personal lyrics for connecting to fans and shared that he's influenced by a lot of things, including other success stories.
"I'm influenced by so much. I'm even influenced outside of music, even people like LeBron James. … All great people share the same mindset … Kobe [Bryant] did an interview with Complex and they asked Kobe 'What's the missing piece in greatness?' and Kobe said people think once you're on and once you're great, it's just happiness and it's not. There's so much anxiety and fear with being really good at what you do. If you actually are great, you don't get to 11 and are like I'm chill here. You want to keep going … it's a constant hunger."
Listen to the full interview above to hear more from Bazzi, including if he's ever second-guessed releasing too personal of a track and more.

Ryan Seacrest
Ryan is quite simply one of the most influential, well-regarded, and well-known names in Hollywood. He is the quintessential Hollywood insider who always manages to have the biggest scoops and the most sought after access to top events and celebrities.
Read more