Kevin Hart Has a Strong Opinion About Husbands in the Delivery Room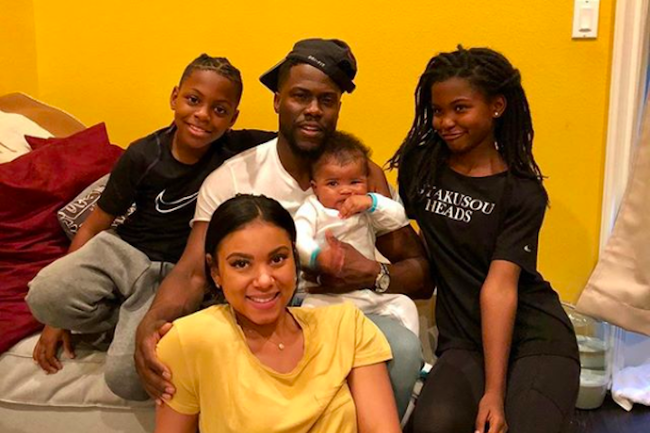 Leave it to Kevin Hart to compare giving birth to a weedwacker. The comedian phoned into On Air With Ryan Seacrest on Thursday, April 5, and strongly advised Sisanie's husband Michael to stay on the sidelines when it comes to the arrival of their twins.
The topic came up when Sisanie asked the dad of three if he was "front and center" in the delivery room or if he stayed "on the sidelines." Kevin is the dad of son Hendrix, 10, and daughter Heaven, 13, with ex Torrei Hart and baby boy Kenzo Kash with wife Eniko Parrish.
"I was behind, behind, the situation," Kevin said. "Tell [Sisanie's husband Michael] don't go down there! Tell him my piece of advice: Do not go down there! OK? At the end of the day you have to be around that situation the rest of your life. You don't want to see that … it's a lot going on down there. Stay above the line of scrimmage! There's no reason to go to the end zone and celebrate down there the baby is going to come out … there's no reason to go down there."
"I have three kids and I didn't do it with none of my three," he continued. "You don't see the damage. There's a lot of damage that can be done and that's a flower to you … so if a weedwacker were to come through a garden and mess up a bunch of flowers, when that flower grows back, you're still going to have flashbacks of what happened when the weedwacker messed it up so you don't need to se that. Don't go down there. That's my firm piece of advice."
In all seriousness, the dad of three did have good parenting advice for Sis, who is going to welcome twins any day now.
"My advice is to buckle up," the comedian offered. "You've got two coming out of the gate. Granted when it's one it's not as bad because you and your partner can alternate … but you're not looking at any breaks. If you've got two, you guys are constantly dealing with one of those babies so what I recommend is a lot of classical music to keep your mind in a positive place at all times you know whenever you stress yourself out go put on some classical music."
He also recommends having a "durable" stroller and "getting air" with the baby and also not babying them too much.
"I'm real big on letting babies explore," Kevin concluded. "People are so afraid to let a baby hurt themselves. Let a baby hurt themselves a couple times! What that does is it teaches them babies fine lessons so you find yourself having to not repeat yourself as much."
Listen to the full interview above and click here for ticket information to catch Kevin on tour.

Ryan Seacrest
Ryan is quite simply one of the most influential, well-regarded, and well-known names in Hollywood. He is the quintessential Hollywood insider who always manages to have the biggest scoops and the most sought after access to top events and celebrities.
Read more