Spoiler! Is Arie Luyendyk Jr. Engaged Again?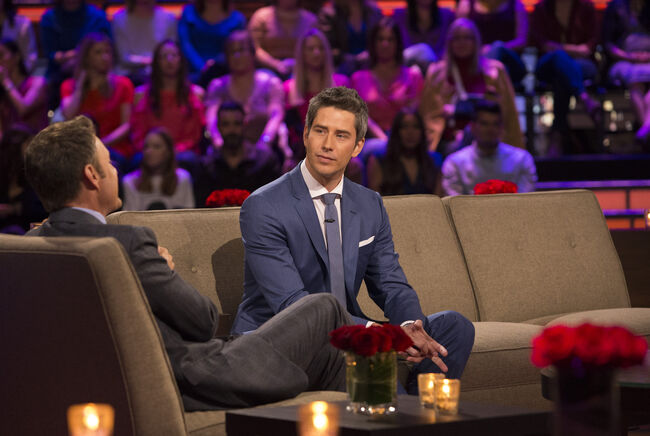 Warning! Spoilers ahead if you have not watched season 22 After the Final Rose special yet.
In what has turned out to be The Bachelor's most dramatic ending yet, Arie Luyendyk Jr. has found himself engaged again. The season 22 bachelor -- who became the most-hated man Monday night after he proposed to Becca Krufin and dumped her weeks later to pursue runner-up Lauren Burnham -- surprised everyone and proposed again to Lauren B. -- and she said yes.
It all went down during the After the Final Rose special. Towards the end of their sit-down interview with host Chris Harrison, the race car driver got down on one knee and asked the 26-year-old sales executive to marry him.
"I've made some bad decisions but the best decision was running back to you," he told her. "I can't imagine a life without you. … I truly believe you are my soulmate. I'm ready to face this life with you, and all that comes with it. The good, and the bad. I love you so much. I wanted to do this in front everyone because I want to show you that I should have done this a long time ago. Lauren Elizabeth Burnham, will you marry me?"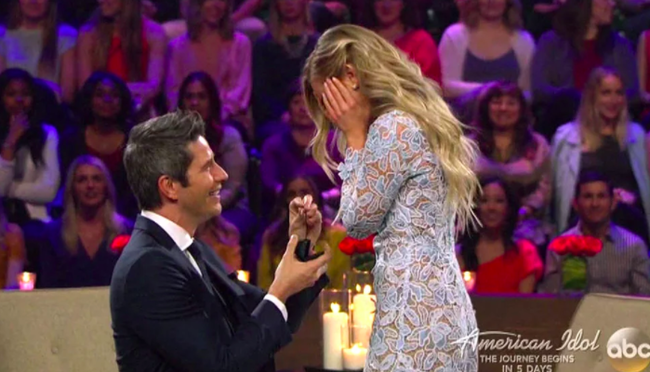 But don't worry, Becca wasn't left in the dust.
After suffering major heartbreak on national television, Chris announced during the special that Becca will be the next Bachelorette.
"This is crazy!" Becca said after Chris announced the news. "I have some big shoes to fill, that's for sure. I want to be the best damn Bachelorette I can be. So I'm so excited. I want to find love. I want to meet so many amazing guys. I'm just ready to do this!"
"It was easy, too, honestly, once I got past the initial heartbreak," she added of accepting the exciting new opportunity. "At the end of the day, the show is about finding love. That's all I want to do. I have so much love to give. So hard yes, all-around!"
Were you surprised that Lauren took Arie back? Sound off in the comments!

Ryan Seacrest
Ryan is quite simply one of the most influential, well-regarded, and well-known names in Hollywood. He is the quintessential Hollywood insider who always manages to have the biggest scoops and the most sought after access to top events and celebrities.
Read more