This LA Restaurant's 'Emergency Taco Kit' Comes With Toilet Paper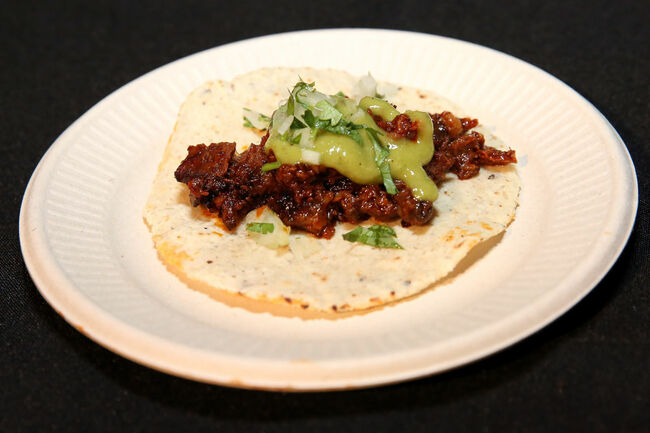 In the mood for tacos? Well, that can be a little more difficult to come by right now if you're practicing social distancing/isolation/in quarantine.
Though you CAN still get take out or delivery from the restaurants that are offering it, some are unable to stay open right now due to financial struggles. For one Los Angeles restaurant, they found a way to make some money and be able to help out employees who were out of work while they were following the new restrictions of take out or delivery only: selling emergency taco kits.
The co-owners of Guerrilla Tacos, Brittney Valles and Wes Avila, decided that the perfect way to make good use of their leftover food and get people in the community the tacos they wanted was to create the emergency taco kit. And it comes with two things people can really use right now: eggs and toilet paper.
You can buy the kits on the restaurant's website for $155. And before you panic about how expensive that is... let me break it down for you what COMES in the emergency kit.
Each kit comes with five pounds of roasted chicken, five pounds of carne asada, a pint of red salsa, a pint of green salsa, tortillas, onions, cilantro, and rice and beans — as well as four rolls of toilet paper and 30 eggs.
Guys. That's a pretty great deal, no? Especially when its nearly impossible to find toilet paper in so many stores right now (but don't worry, they're restocking, and pretty soon everyone will have so much toilet paper they won't know what to do with it! I hope!)
This emergency kit might be too much food to finish if you're currently quarantined alone, but if you're with a family or roommates, this is definitely the way to go! And I'm sure some of us would have no problem getting through it on our own as well...
The best part about the emergency taco kits? They're being sold as a way for the restaurant, that cannot pay employees while they're closed, to still provide some benefits to employees right now. The profit from the kits allows Guerrilla Tacos to still pay for health and dental insurance for their employees.
The taco shop did announce they are available for take out or delivery right now, but of course encourage being safe and practicing social distancing if you do step out to pick up food.
The shop also partnered with Tiago coffee to offer Emergency Cold Brew kits (and we all know coffee can be essential to survival, just like tacos.)
Help these two businesses at such a time of need - and get everything you want to eat and drink even if you're staying home!
Get more from Sisanie here!
Photo: Getty Images
Sisanie
Sisanie is co-host of Ryan Seacrest's show On Air With Ryan on KIIS FM Los Angeles' Hit Music radio station from 5am-10am.
Read more