Expect A Surge In Dating App Usage During Time Of Social Distancing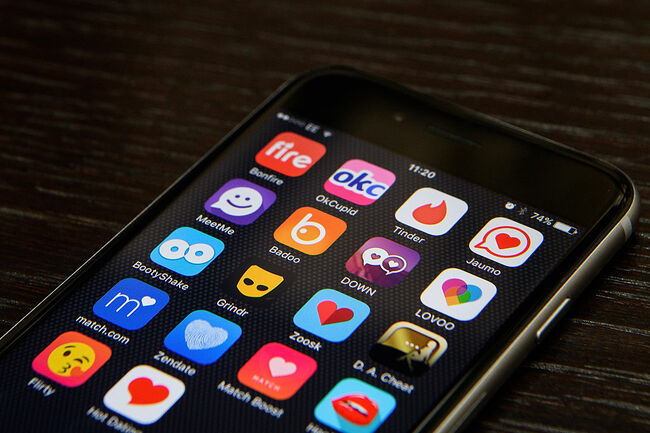 I met my husband before the dating app era - by really only a year or so, I think! So I'm always so interested in how each of the apps are different from each other and what it's actually like for my friends who meet people on the app and then go on to meet them in person.
And NOW I'm fascinated by how dating app culture is changing and adapting to this period of self isolation and social distancing.
While people may not be able to actually meet up in person due to the outbreak of the coronavirus, that is not stopping them from swiping away!
Since the CDC recommended social distancing for the entire country, swiping has less often turned into in-person meet ups and a lot more data usage. Yes this may be partly due to people sending photos to each other and FaceTiming to stay in touch (with romantic relationships AND friends and family!!), it also appears to be coming from dating app users too.
This report specifically did a deep-dive into OkCupid, and the app has already seen a 188% increase in people mentioning "coronavirus" in their profiles between January and February and a 71% increase in mentions between January and March.
And there's more!
Dating.com is reporting more people have registered for their site in the past few weeks than ever before. Plus chatting on Hinge, Bumble, Bustle and even Tinder is at an all-time high because it serves as a distraction from working at home, burning through movies, and going a bit stir-crazy.
I can't say for sure if everyone out there is actually looking for love at this strange time or if they're just bored, but either way, they're definitely using the apps as a distraction or way to pass the time.
Can't wait to hear about the couples who met online and got to finally meet in person after this isolation period if over, right?! You never know what could happen. Happy swiping out there!
Get more from Sisanie here!
Photo: Getty Images
Sisanie
Sisanie is co-host of Ryan Seacrest's show On Air With Ryan on KIIS FM Los Angeles' Hit Music radio station from 5am-10am.
Read more