The Internet Fell In Love With A Golden Retriever And His Seeing Eye Dog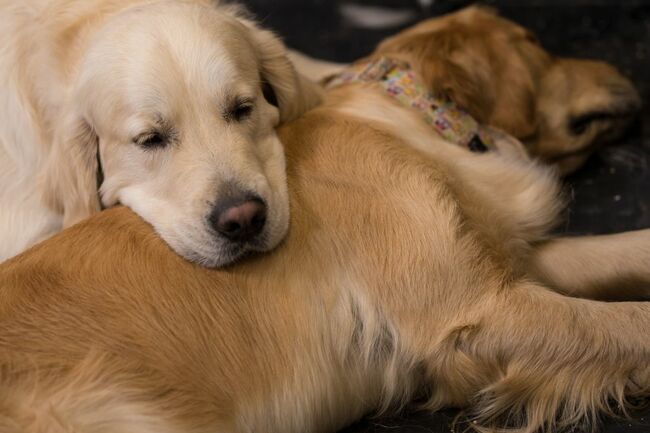 I know we all have heard of seeing eye dogs used for people with vision impairment before, but have you ever heard of a seeing eye dog... for another dog?
Over the weekend, the internet was introduced to a dog named Charlie. Charlie is an 11-year-old golden retriever from North Carolina who belongs to owners Adam and Chelsea Stipe.
What makes Charlie so special? Well, he's clearly a very good boy. But beyond that, about three years ago, Charlie had to get his left eye removed due to glaucoma. Sadly, a year later, he had to get his right eye removed as well.
Charlie obviously is unable to see now, and the transition was really difficult for him. Earlier this year, Adam and Chelsea brought home a 4-month-old puppy named Maverick and what happened next is going to MELT. YOUR. HEART.
The two dogs reportedly did not originally bond, but now Charlie relies on Maverick to help get around, play, eat, and even sleep.
It's safe to say that when this story came out, people immediately fell in love with the two dogs.
Twitter can be a place for trolls and, as all social media, a touch of negativity, but this story seems to have united all of Twitter together in a moment of "THIS IS THE CUTEST THING WE HAVE EVER SEEN."
Maverick and Charlie's owner Chelsea explained how their friendship brings out the youthful side of Charlie:
"When Maverick and Charlie play, it's definitely great to watch because Charlie turns into such a puppy. It's sweet to see them get along and enjoy each other."
And if that image doesn't bring a smile to your face, then I'm not sure what will today! So here are a few more photos to remind you of the cute-ness of these dogs.
The best.
Get more from Sisanie here!
Photo: Getty Images
Sisanie
Sisanie is co-host of Ryan Seacrest's show On Air With Ryan on KIIS FM Los Angeles' Hit Music radio station from 5am-10am.
Read more