You Have To See This Sweet 'Gilmore Girls' Themed Proposal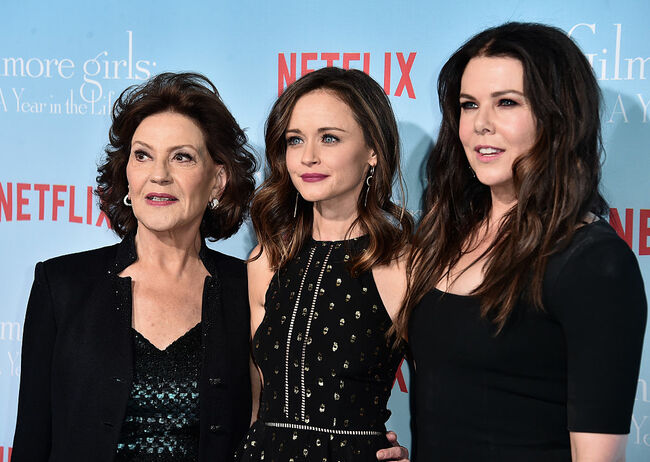 Gilmore Girls is one of those shows that most people in your life have probably seen, at least a few episodes, and most likely love.
But not everyone out there is a superfan! Especially not as big of a superfan as Molly Larimer, one of the biggest Gilmore Girls fans, who just got the surprise of a lifetime while visiting the iconic Stars Hollow set here in Los Angeles.
If you know the world of Lorelai and Rory even a little bit, you know that the Stars Hollow gazebo holds a lot of significance in their lives, and that it has proven in both the original show and the Netflix revival to be the ultimate romantic location.
And lucky for Molly, her boyfriend Sebastian understood just how romantic that spot was. And so he planned his proposal to Molly around the iconic gazebo while the couple was visiting the set.
Molly explained to Mashable how the entire proposal went down once the tour guide took the group to the beloved Stars Hollow gazebo, and prepare for your heart to melt:
"We got up to it, and the guide asked us all if there were any big Gilmore Girls fans in the group, and my fiancé and I both raised our hands. Then the guide asked us to go onto the gazebo to do an 'improv scene.' When we got up onto the gazebo, Sebastian told me that we were there for another reason, and he got down on one knee."
Judging from Molly's reaction to her now-fiance Sebastian getting down on one knee, it's clear she had no idea this was coming!
Following the posting of her proposal video, she followed it up with a tweet captioned "2016 vs 2018 #GilmoreGirls" and it's hard not to approve of this adorable Stars Hollow-loving couple.
Romance doesn't get much sweeter (or caffeinated, thanks to Luke's!) than this. Congratulations to the adorable couple!
Photo: Getty Images
Sisanie
Sisanie is co-host of Ryan Seacrest's show On Air With Ryan on KIIS FM Los Angeles' Hit Music radio station from 5am-10am.
Read more