Get Tanya Rad's Perfectly Curated Valentine's Day Playlist Here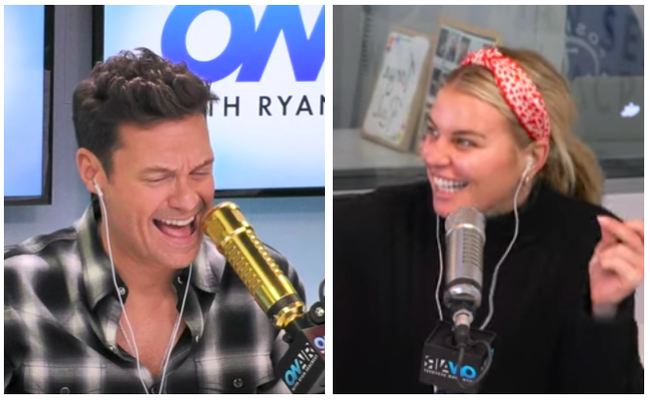 Valentine's Day vibes! Tanya Rad shared her personally curated Valentine's Day playlist on-air on Friday, February 14, after taking submissions from Ryan Seacrest and Sisanie earlier this week.
In case you missed it, Tanya's in charge of the playlist this V-Day when it comes to her plans with her new boyfriend. The duo are going to cook dinner at home to celebrate.
"I want it to be the right mood. I want it to be Valentine's Day, but I also want it to be like cool Valentine's," she explained to Seacrest. "I don't want it to be [over-the-top or cheesy]."
So which artists made the cut? Vibes from Tep No to Miguel and our fave Rüfüs Du Sol and more made the cut. Check out the complete playlist below and have a happy Valentine's Day!
Tanya Rad's Valentine's Day Vibes Playlist:
"Toluca Lake" Tep No
"My Bad" Khalid
"Who We Are" Tep No
"Army" Ellie Goulding
"Never Let Me Go" Florence + The Machine
"Takeaway" The Chainsmokers
"Paris" The Chainsmokers
"Firestone" Acoustic cover by Conrad Sewell
"Hymn For The Weekend" Coldplay
"Real Life" The Weeknd
"Magic" Coldplay
"Beggin For Thread" BANKS
"Let's Fall In Love For The Night" Finneas
"Otherside" Post Malone
"Adorn" Miguel
"Coffee" Miguel
"Needed Me" Rihanna
"Think Bout You" Frank Ocean
"Simple Things" Miguel
"OTW" Khalid ft. 6LACK
"Rollin" Calvin Harris
"Thunder/Young Dumb & Broke" Imagine Dragons & Khalid
"Sex With Me" Rihanna
"Treat You Better" Rüfüs Du Sol
"Yeah, I Said It" Rihanna
"Hey Ma" Bon Iver
"Cross My Mind" Arizona
"Capsize" Frenship
"Omen" Disclosure ft. Sam Smith
"Love Somebody" Frenship
"I Was Wrong" Arizona
"Show Me Love" Sam Feldt
"Waiting Game" BANKS
"There For You" Martin Garrix & Troye Sivan
"Magnets" Disclosure ft. Lorde
"iMi" Bon Iver
"Ribs" Lorde
"Say It" Flume
"Kiss It Better" Rihanna
"Talking Body" Tove Lo

Ryan Seacrest
Ryan is quite simply one of the most influential, well-regarded, and well-known names in Hollywood. He is the quintessential Hollywood insider who always manages to have the biggest scoops and the most sought after access to top events and celebrities.
Read more