KROQ's Bean: Luke Perry's Death Reconfirmed My Exit, That Life's Short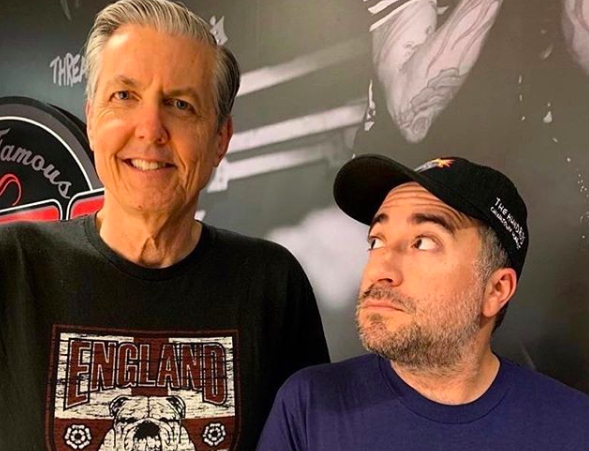 After 30 years on air, Gene "Bean" Baxter is exiting The Kevin & Bean Show and moving to England with his wife to pursue the next chapter. Bean, who is also being honored at the Radio Hall of Fame this weekend, phoned into On Air With Ryan Seacrest on Thursday, November 7, and shared that he's not retiring, he's just seizing life's opportunities.
"Right now, it's just a whirlwind of just trying to get everything done and heading towards the end, but it's finally here and it's going to be very weird," the KROQ icon reflected. "I've had this job for half my life. I'm excited about the next chapter. I'm not retiring; I'm going to do something that is very difficult to do which is switch countries and try to get back into radio. I'm moving to England and I hope to continue to work and to get a job over there and my career isn't over."
Bean shared that while it will be hard and emotional to leave behind counterpart Kevin Ryder, with whom he's hosted continuously since New Year's Eve 1989, he's come to recognize life's unpredictable timeline.
"Heres the thing: my wife and I have been talking about living in Europe for a long time," Bean explained. "Why not move while we're young enough and healthy enough to actually enjoy it? … To get serious for one second," he added. "The week I announced in the spring that I'd be leaving was the week that our dear friend of the industry, Luke Perry, passed away and he was only 56 years old. ... It was very sudden and I looked at that and said, 'You know what? I am making the right decision,' because you can put off the things you want to do for too long and then not get the opportunity to do them."
"None of us know how much time we have," Bean added. "And, at some point, you have to consider how much time you have left and how you want to spend it."
As for how his partner-in-crime Kevin is handling the news?
"I think he's happy for me," Bean concluded. "I'm delighted we're leaving the show in great hands."
Listen back to the full interview in the audio above and join us in wishing Bean the best of luck across the pond!

Ryan Seacrest
Ryan is quite simply one of the most influential, well-regarded, and well-known names in Hollywood. He is the quintessential Hollywood insider who always manages to have the biggest scoops and the most sought after access to top events and celebrities.
Read more