Ryan Seacrest Recalls How Elvis Duran Inspired His Career: We 'Nerded-Out'
Follow your dreams! Elvis Duran, one of the nation's top morning show hosts, stopped by On Air With Ryan Seacrest and our very own host, Ryan Seacrest, shared Elvis is one of the reasons he sought out his radio career.
"You have to understand, I'm so excited to have Elvis in because I've really looked up to him since I was a teenager and I'll tell you how," Seacrest shared on-air on Wednesday, October 30. "When I was in Atlanta I mowed lawns in Dunwoody, Georgia, and I bought a mixer at RadioShack … and the reason I bought it was because I was listening to this guy on a station at night … and this guy was able to go from one song to another without stoping the song totally … so I bought a mixer … and [would] pretend I was on Z93 and the guy I was listening to was Elvis Duran!"
The Z100 host, who recently released book Where Do I Begin? Stories (I Sort of Remember) From a Life Lived Out Loud, shared his journey to the studio was similar.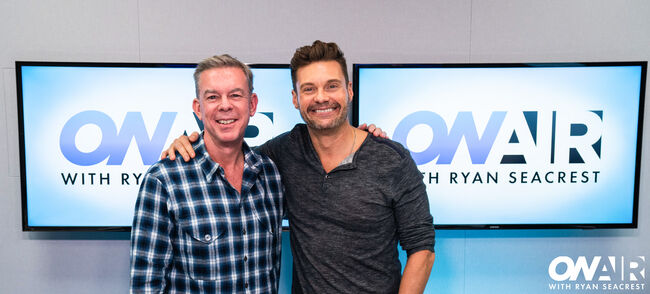 "I started the same way," he recalled. "And I nerded-out and bought a mixer and became this."
In the book, Elvis shares his wildest stories and hardest-learned lessons all with his trademark heart, honesty, and plenty of humor.
"I think if you listen to my show … I think you do want to hear the story behind what we do every day," Elvis said of the book. "I'll tell you why it's interesting to me … the reason I wrote the book and the reason I still do what I do and love what I love is I'm figuring out as a human being I need a connection," he added. "… It's where we are at our most comfortable."
Watch back the full interview in the video above and click here to order Elvis' book for all the behind-the-scenes moments including your favorite artists and even Seacrest himself!

Ryan Seacrest
Ryan is quite simply one of the most influential, well-regarded, and well-known names in Hollywood. He is the quintessential Hollywood insider who always manages to have the biggest scoops and the most sought after access to top events and celebrities.
Read more