Sisanie & Tanya Rad Try Reiki and Guided Meditation to Recharge: Watch
Our everyday lives are so on-the-go, we forget how important it is to recharge and reset — and sometimes even how. This is where Los Angeles' new hotspot, CULTIVATE, comes into play. Sisanie and Tanya Rad visited the mediation and wellness studio in the latest episode of Off-Air With Sisanie in the video above and experienced their first-ever Reiki session and more.
"A lot of people turn to meditation for stress [and anxiety] reduction," CULTIVATE owner Jen Stavitsky shared with Sis and Tanya. "And one of the nice things is we offer a variety of a lot of different meditation techniques … [and] facilitators to guide you and you also have community so it really does elevate the practice and makes you commit in a different way."
At the studio, Jen and her husband, Simon, also offer Reiki.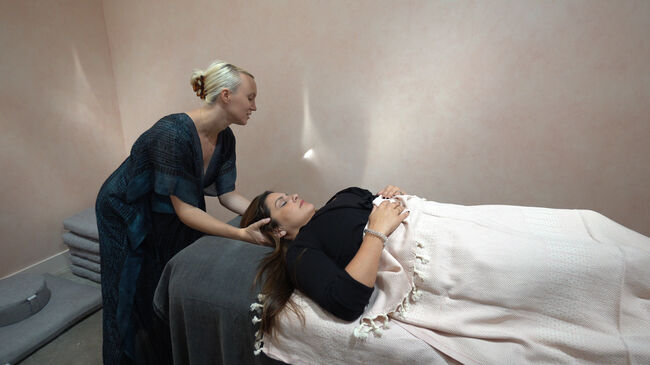 "Reiki is a healing modality," Jen explained. "It's a Japanese healing modality and Reiki means life force energy so you're tuning into an energy that we all have access too. … When you're in tune to the energy, it's just learning how to channel and focus it."
While Reiki can be a "different experience" for everyone, Sisanie thoroughly enjoyed the process and explained it felt like a "spiritual massage."
"It can really help on a physical, emotional and spiritual level even with thoughts and it just gives you an opportunity to reconnect with subtle energy and disconnect from the thinking mind and rest, recharge and restore," Jen added. "Because our lives are so go, go, go, you forget how to … relax and it's something we all need."
(Jen suggests taking your time and hydrating with lots of water following a Reiki session.)
Watch back the video above to go inside the studio and see what else Sisanie and Tanya tried which they concluded felt like a much needed "gym for your mind"!

Ryan Seacrest
Ryan is quite simply one of the most influential, well-regarded, and well-known names in Hollywood. He is the quintessential Hollywood insider who always manages to have the biggest scoops and the most sought after access to top events and celebrities.
Read more