Go Behind the Scenes With Ryan at the 2019 iHeartRadio Music Festival!
What a weekend! Ryan Seacrest hosted the 2019 iHeartRadio Music Awards in Las Vegas over the weekend and caught up with all the performers and collaborators backstage at the T-Mobile Arena and we've got you covered with an exclusive look behind-the-scenes.
This year's festival featured performances from Alicia Keys, Backstreet Boys, Cage the Elephant, Camila Cabello, Chance the Rapper, Def Leppard, French Montana, Green Day, Halsey, Heart, H.E.R., Hootie & The Blowfish, Marshmello with special guest Kane Brown, Miley Cyrus, Mumford & Sons, Steve Aoki with special guests Darren Criss and Monsta X, Tim McGraw, Zac Brown Band and more!
To help celebrate Halsey's upcoming 24th birthday, Seacrest whipped up a sweet treat for the songstress: the same ice cream cake his mom Connie made for him every birthday growing up!
Backstreet Boys' Nick Carter gushed his wife, Lauren Kitt, is due any day now with their second child.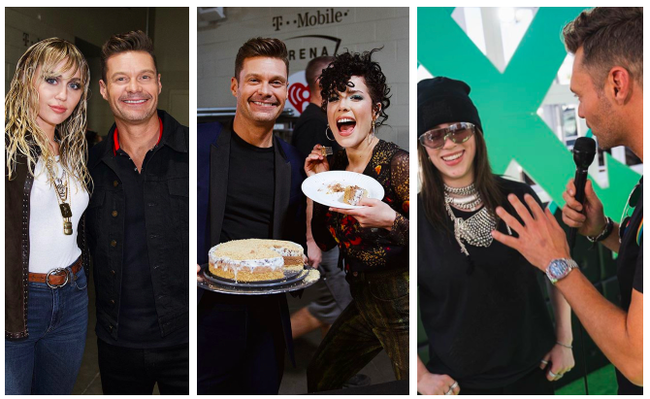 "My wife gives birth in 11 days," Nick shared with Seacrest backstage, adding he's ready to relax offstage as dad following the show and that the nursery is "all ready to go."
Seacrest also caught up with Camila Cabello, who performed "Liar" and "Shameless" live for the first time, and with fellow performers Tim McGraw, Chance the Rapper, Def Leppard, Alicia Keyes and Miley Cyrus, who dished on her famous father and also covering tracks including Pink Floyd's "Comfortably Numb" and Led Zeppelin's "Black Dog."
Watch back the video above for more and if you missed the iHeartRadio Music Festival, you can relive the weekend via a televised special on The CW Network at 8 p.m. ET/PT on October 2nd and 3rd. And leading up to the official television special, The CW will also air an hour-long Best Of Special on Sunday, September 29th at 8 p.m. ET/PT taking a look back on all of the most iconic moments from the festival in its nine year history.

Ryan Seacrest
Ryan is quite simply one of the most influential, well-regarded, and well-known names in Hollywood. He is the quintessential Hollywood insider who always manages to have the biggest scoops and the most sought after access to top events and celebrities.
Read more