Sophie Turner Reveals Hilarious Way She Tried to Date Matthew Perry
A for effort! Sophie Turner revealed during a recent interview with Twitter Movies that she once attempted to date Matthew Perry and it's honestly hilarious. 
As Tanya Rad explained on-air on Wednesday, June 12, Turner would hang out near where Perry was filming to attempt to score a date with him prior to marrying now husband Joe Jonas. 
"I would walk around the corner every day to go to my local Budgens, which is a great little supermarket," Turner explained. "And I would walk around the corner every day, and I would see Matthew Perry outside smoking a cigarette."
The Game of Thrones alum explained that she once bought a lighter even to ask him if he needed a light, but his cigarette was already lit.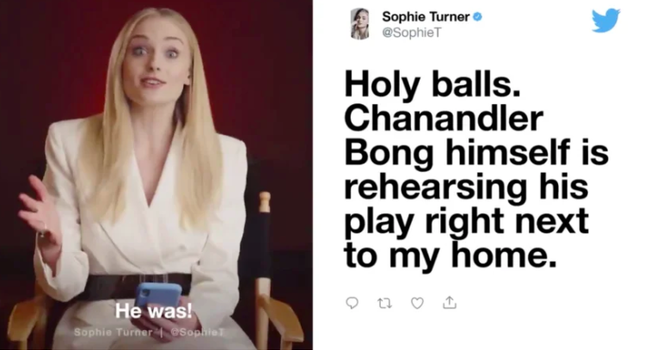 "I thought he might see this tweet and then, I don't know, reach out to me and ask me on a date or something," she added. "But he didn't."
Fast-forward to present and Turner is happily married to Jonas but that led Tanya, Ryan and Sisanie to recall their own LOL moments in Los Angeles — watch the on-air moment back above! 

Ryan Seacrest
Ryan is quite simply one of the most influential, well-regarded, and well-known names in Hollywood. He is the quintessential Hollywood insider who always manages to have the biggest scoops and the most sought after access to top events and celebrities.
Read more