Lisa Rinna Gives Ryan Seacrest QVC Advice, Spills on RHOBH Reunion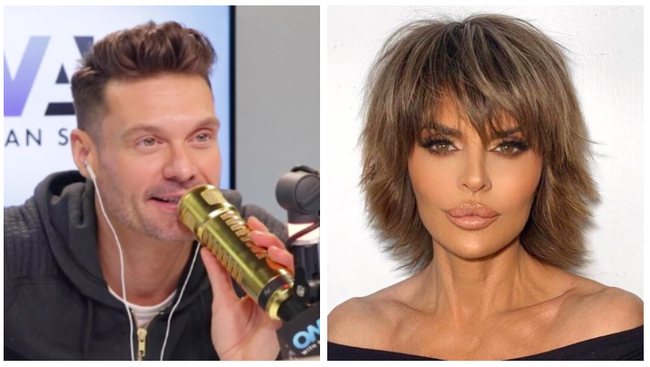 Ryan Seacrest is making his first-ever appearance on QVC and got the lowdown from QVC queen herself Lisa Rinna on Friday, June 7. The Real Housewives of Beverly Hills star, who sells her line Lisa Rinna Collection on QVC regularly, phoned into On Air With Ryan Seacrest to share all the tips and tricks, plus also dish on the forthcoming drama-filled RHOBH reunion special.
"You're so good with people, you've done this a lot, but all you do is be yourself," Rinna shared. "14 minutes goes by very fast — they could take a caller, I mean, it's live so who is better at doing live than you Ryan Seacrest? … You're talking to the customer like you do on 'LIVE' and on your radio show, but now you're selling a product that the you love, right? … You gotta just show your passion. You need to tell the story of how much you love this and why do they need this product … I love me some Dr. Lancer, he's the best!"
Ryan's skincare line, Polished For Men, is truly unbeatable — especially at the price point given the quality of Dr. Lancer's celeb-approved products.
"He's the secret sauce to everybody's skin," Ryan dished. "I think for men, we do care about longevity and about the way we look and our appearance, but we don't always want to talk about it and we want it to be easy and affordable. … For the price of parking at Dr. Lancers' [office in Beverly Hills], you can have the whole [3-step] system," Ryan jokingly added of the VIP skincare line.
Ryan's launching his skincare line Polished For Men with Dr. Lancer on QVC this Saturday, June 8, at 7am PT / 10am ET! Click here to find out more details and how to buy!
Before we let her go, Rinna also dished on the highly-anticipated, drama-filled reunion of the Real Housewives of Beverly Hills and confirmed that it's nothing short of drama.
"The tea is large," she said. "I mean, I have a big, huge cup of tea right now. What I will share with you that … I'm not really probably supposed to … is one of the big characters on our show doesn't come to the reunion," she added, confirming that Lisa Vanderpump won't appear on the reunion special after this season's "PuppyGate" drama. "And that's the truth."
Watch back the full interview in the video above and catch Ryan on QVC this Saturday!

Ryan Seacrest
Ryan is quite simply one of the most influential, well-regarded, and well-known names in Hollywood. He is the quintessential Hollywood insider who always manages to have the biggest scoops and the most sought after access to top events and celebrities.
Read more