Kris Fade Details How Will Smith Helped Pull Off His Epic, Viral Proposal
Going to be hard to top this one! 104.4 Virgin Radio Dubai's Kris Fade stopped by On Air With Ryan Seacrest on Friday, June 7, and shared how he pulled off the most epic, now viral proposal with none other than Will Smith. 
Kris' iHeartRadio show "The Kris Fade Show" is broadcast across the Middle East and also in Australia, where he's originally from. The radio personality recently got engaged to longtime girlfriend Brianna. In case you missed it, Smith helped him pull off the moment at a press junket and then shared the moment on social media, leading it to naturally go viral. 
"The big Aladdin preview was going on, in Jordan is where they filmed it, and I had the guys at Disney contact me and say, 'Yo, do you want to fly out and do a couple interviews?'" Kris explained of how it came about.
"They said at this stage like Will is all down for everything, but at the same time, he's Will Smith so he'll do limited interviews, do you want to do anything special?" he continued, revealing he informed them he was planning on proposing. "[I was like] I can't do it on my own radio show, I thought, we'd done that before, and … [so] I sent it to Will … and Will's team came back and said, 'We're down for it, let's do it! Let's help out, we'd love to be part of it, but Will wants to have a say about how you do it.'"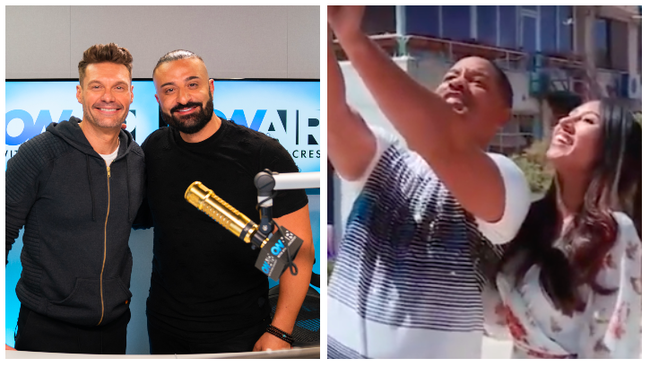 Kris added that not only did Will help plan the major moment -- but it wasn't a small production either.
"There was about 26 people involved," he continued. "She had no idea I had this ring in my pocket. I did interviews with the cast of Aladdin and then finally it was Will Smith [and] him and I did a quick little [interview and] this whole time Brianna, my fiancé, is on the roof in this beautiful place in Jordan — it's called citadel, it's this ancient city behind us — and I told B, my girl, 'I got you a private one-on-one photo with Will Smith so he's going to come up and take a photo with you.' And she was like, 'OMG! That's so nice! What should I wear?' So a couple days prior I'm like making sure that she's getting her nails done … and she's up on the roof and Will and I do this interview and I say to Will, 'Man, I'm not listening to a word you're saying.' And he goes, 'Kris, I totally understand what's going on.' And so he came up with the idea … he said, 'Let me pretend to take a selfie with Brianna, alright? I'm going to lift the phone up and as I'm lifting, I'll take one photo and on the second photo, you go up behind and get on your knee and she'll see the reflection in the selfie of you on the knee' — and it worked!" he adorably expressed. "I have never been so nervous in my life and I think Will was nervous and the reaction from my beautiful fiancé, it was pretty real."
Too cute!
Watch back the full interview with Ryan above for more and to find out what else we learned about Kris and Dubai!

Ryan Seacrest
Ryan is quite simply one of the most influential, well-regarded, and well-known names in Hollywood. He is the quintessential Hollywood insider who always manages to have the biggest scoops and the most sought after access to top events and celebrities.
Read more