Tanya Rad Is Going on a Second Date, Ryan Picks Out Her Outfit
Tanya Rad is going on date No. 2 with Mr. Stilts! Ahead of the outing, Tanya shared with Ryan Seacrest and Sisanie her potential look and Ryan weighed in with his thoughts.
"Date one: Men and women, we pick out something we're confident in," Ryan shared. "Date two: Men and women pick out something that conveys a message — professionalism? Provocative? Wanna dance? Loose? Tight? Want to show off your body? Don't want to show off your body? Like, men do the same thing: I'll wear certain jeans date three that I won't wear on date one."
Tanya added that she has a go-to date night "uniform" which consists of something she feels comfortable and confident in. For example, on their first date, she wore a black tank and denim jeans.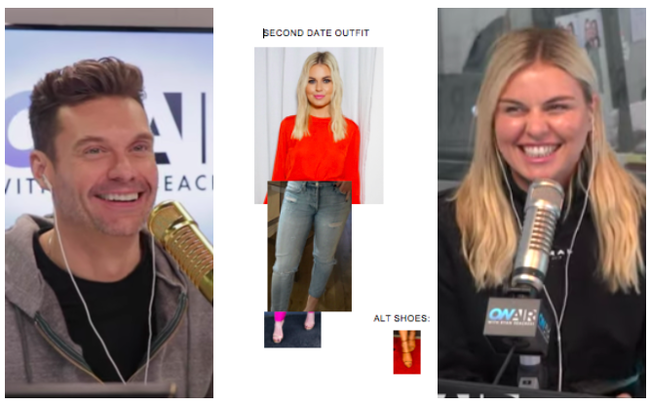 "So [tonight] I wanted to wear something more colorful and bright and more my personality," she explained, showing Ry an example of look No. 2. "I wanted to wear this bright blouse, but it looks very covered up in the front, but in the back, it's completely wide open so I can't wear a bra …"
Going braless and open-back obviously ups the anti but Tanya isn't worried about conveying the wrong message.
"I never wear bras," she hilariously concluded. "I'm not even wearing one right now."
Watch back the on-air moment in the video above and also enjoy the fact that Tanya can't pronounce "sans" … 😂 

Ryan Seacrest
Ryan is quite simply one of the most influential, well-regarded, and well-known names in Hollywood. He is the quintessential Hollywood insider who always manages to have the biggest scoops and the most sought after access to top events and celebrities.
Read more