Ryan Seacrest Shares His 'Bachelorette' First Impression, Limo Move: Watch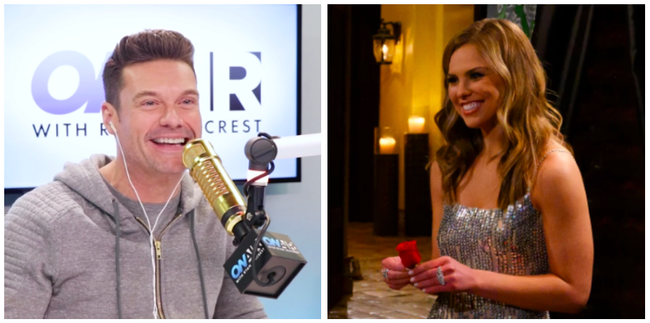 It was cute until the onions 😂 Ryan Seacrest shared what he'd do as his first impression getting out of the limo if he were a contestant on The Bachelorette on-air on Monday, May 15. 
It all came about while discussing season 23 bachelorette Hannah B.'s premiere episode, during which the men introduced themselves by popping out of boxes to jumping fences and even arriving via tractor. The Bachelor and Bachelorette limo first impressions notoriously vary from sweet to cringe-y to cheesy on the hit ABC franchise. (Never forget "WHABOOM!")
"It got me to thinking what would I do for my first impression if I got out of the limo?" Ryan said while discussing the packaging dude who popped out of a box on the season 23 premiere and ultimately got sent home. "I have it: I would get out with [my dog] Georgia, a pizza, a blanket -- or card table and chairs -- and I would say, 'Our first date starts now,'" Ryan shared. "And we'd sit and we'd have our first date right there. [I'd say] 'Alexa, play KIIS FM' and we'd play music and we'd do it right there … and 'Here's a piece of four-onion pizza.'"
It was all cute until the onion pizza ...
"That's the point!" Ryan said after Sisanie and Tanya went into a frenzy over the stinky sounding pizza. "It says 'I'm not going to try to kiss you, nothing is going to happen on this date' because we're having onions. … I think the key is the onion pizza which screams 'I'm not trying anything here,'" Ryan concluded. "… I'd totally want to sit down, right here, right now, and have the other guys wait."
Listen back the on-air moment above and weigh in on your opinions in the comments below! Who is your front-runner on this season of The Bachelorette?
Catch The Bachelorette on Mondays on ABC at 8/7c.

Ryan Seacrest
Ryan is quite simply one of the most influential, well-regarded, and well-known names in Hollywood. He is the quintessential Hollywood insider who always manages to have the biggest scoops and the most sought after access to top events and celebrities.
Read more