Rebel Wilson, Ryan Seacrest Bond Over Living Off Burritos: 'I Lived on $60'
Never give up on your dreams! The Hustle star Rebel Wilson stopped by On Air With Ryan Seacrest on Friday, May 10, and bonded with Ryan Seacrest over first moving to Hollywood years ago. 
"It was crazy," Rebel recalled. "I lived in Venice [California] and I called it like the Venice drug den — there were like people who would watch you on video cameras when you came in and out of the building — it was real seedy," she joked. "There's gorgeous areas now, but back in the day, I was scared to go out at night there and then I moved to Los Feliz."
The funnywoman explained she sold everything she owned — her apartment, her car, her computer — when she first moved from Australia.
"Because you need a lot of money when you come to America because you can't work until you eventually land a job in a big feature film like Bridesmaids," she continued. "… And once I paid for an apartment and stuff, I lived on $60 a week for that first year because even though I'd shot Bridesmaids, I had to wait for that movie to come out to get any kind of love."
To survive off just $60 dollars, Rebel shared she'd hit up her local Trader Joes.
"I'd go to Trader Joes and I would get like corn chips, guacamole and these frozen burritos that they have — I love them!" she recalled. "… The Trader Joes' ones are like 96% fat free so I was like, 'Yes, yes, yes!' And they really fill you up — not that I need anymore filling up," she joked.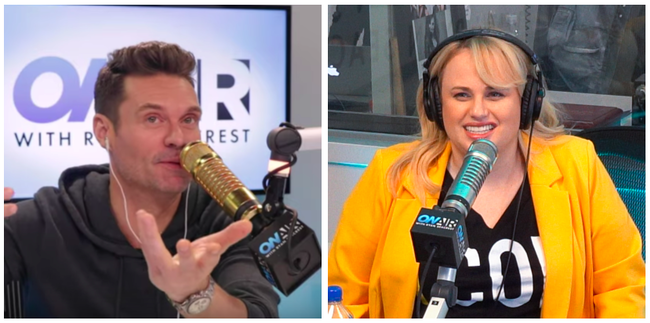 Ryan similarly was on a budget when he moved to Los Angeles, sharing a one bedroom with a friend and frequenting 7/11 for their similar affordable burritos and Grape-Nuts.
"My goal when I first came to America was really just to get in one American movie because … Australians really respect Australians who come to Hollywood and get in a movie," Rebel added. "I'd done like 13 TV shows in Australia, but still my family was like, 'Yeah, but, maybe it's a phase.'" 

Ryan Seacrest
Ryan is quite simply one of the most influential, well-regarded, and well-known names in Hollywood. He is the quintessential Hollywood insider who always manages to have the biggest scoops and the most sought after access to top events and celebrities.
Read more