Lizzo Teases Upcoming Coachella Performance: 'We're Beyoncé Status Now!'
Lizzo is in the house! The songstress and extremely talented flautist stopped by On Air With Ryan Seacrest on Wednesday, April 10, ahead of her first-ever Coachella performance this weekend and dished on everything from her forthcoming album to her sold-out tour and more. 
Lizzo, whose real name is Melissa, is best known for her hit "Juice," which she also performed live in-studio. 
"The flute chose me," Lizzo shared of her talent. "… I was 12 and we were all in band and [the teacher] looked at me and just chose me — she said I had the mouth for it," Lizzo added, joking: "The flute is hard … and it's even harder to twerk while doing it!"
The songstress describes her music as "church with a twerk" and couldn't be more spot on.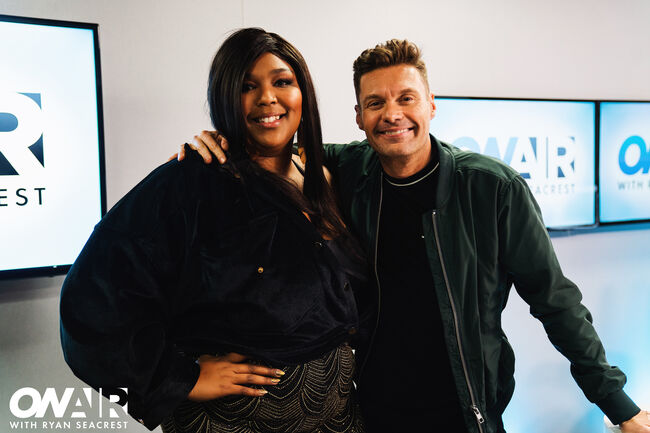 "I made a distinct decision to be positive and to sing about positivity," she added of her lyrics and brand. "I realized that music can be a self-fulfilling prophecy and I tried to be moody and I tried to be like 'I'm on the road and I ain't got no money' type of rap and then I realized I was on the road and I had no money. I was like 'Wait a second!'" she continued. "I want to bring light into the room. I want to show people how to love themselves because I want to learn to love myself so I decided to be a body-positive little singer."
Lizzo's debut album dropped in 2013 and her third studio album, Cuz I Love You, is set to be released on April 19, on the heels of her first-ever Coachella performances. 
"We've been ready for this," she dished of the music festival. "We've been rehearsing for three weeks. It's going to be spectacular! I've got big girls from all across the country dancing on stage with me; I've got the glitter; I'm going to be bringing the music; My DJ is there; The flute is gonna be there — it's going to be crazy. … We're Beyoncé status now — [we're] going for gold! Lizzochella!" 

Ryan Seacrest
Ryan is quite simply one of the most influential, well-regarded, and well-known names in Hollywood. He is the quintessential Hollywood insider who always manages to have the biggest scoops and the most sought after access to top events and celebrities.
Read more