Ryan Seacrest Teaches Tanya How to Hilariously Dodge TMZ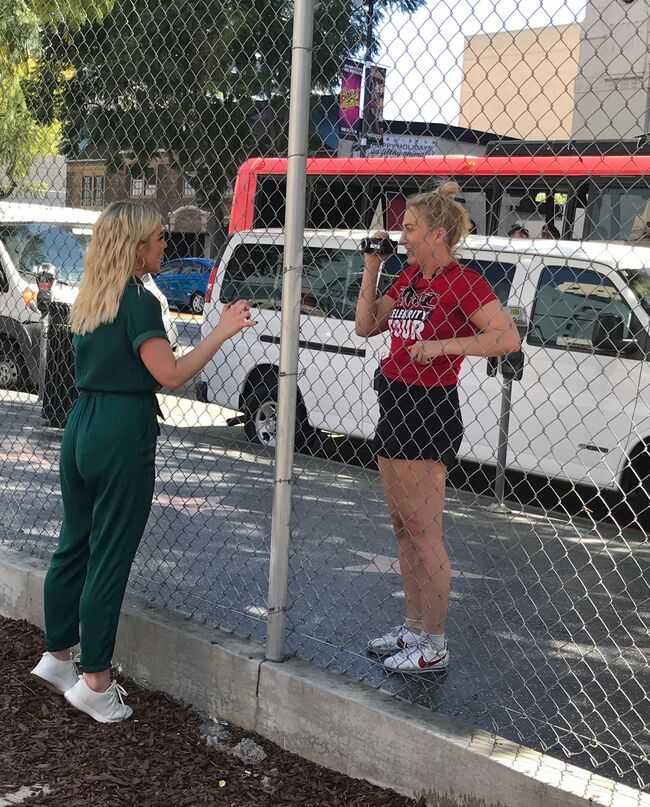 High-profile! Tanya Rad got stopped by TMZ cameras over the weekend and was asked about Ryan Seacrest. On Thursday, April 4, Seacrest and Tanya hilariously recapped the moment and Ry jokingly taught Tanya how to dodge the news outlet's sometimes probing questions. 
"I wanted to warn you before you signed on to take this role, Tanya, you know you're high-profile," Ryan joked. "You're going to have a difficult time going out some time … and then you started this high-profile relationship with Zachary Levi and they a have a list of people that are on the radar and because Shazam! is opening you're probably one of the tip catches for TMZ," he jokingly added, referring to Tanya's latest crush, who came in the studio last week. 
"You're apparently in jail," Ryan joked of the photo of Tanya being interviewed by TMZ. "You're in a jumpsuit and you're behind a huge fence and it looks like you're in jail so my first reaction was Harvey Levin saw the court documents and tracked you down in jail."
Turns out Tanya was just spotted by the TMZ tour bus and then asked about Ryan.
"I hear my name getting yelled across the parking lot … and I turn around and I'm like 'Who the heck?' And I see the TMZ tour bus and I was like 'This is super cool!' So I ran over and was like 'Are you guys having fun?' … She came in with the video camera and she started asking me normal things … and then she goes 'What's it like working with Ryan Seacrest?'" Tanya recalled. "And I gave my whole 'He's amazing ...' and the next followup was 'What's the most annoying thing about Ryan Seacrest?' and I look at her and I say 'I see what you're doing here…'"
Ryan joked that to dodge the hard-hitting questions you have to redirect the attention.
"I get these questions like 'What do you think about Jada Pinkett Smith not following Kris Jenner?' … They can ask questions that can get you I trouble," he explained. "So I say 'Good to see you guys! … How's Harvey? … You guys are the best, bye!' … Or I ask them questions … and then by the time my car is there and I'm out!"
Listen back to the funny moment in the audio above to hear what Tanya responded and more.

Ryan Seacrest
Ryan is quite simply one of the most influential, well-regarded, and well-known names in Hollywood. He is the quintessential Hollywood insider who always manages to have the biggest scoops and the most sought after access to top events and celebrities.
Read more