Khloé, Kylie Jenner Remove, Discount Jordyn Woods From Their Brands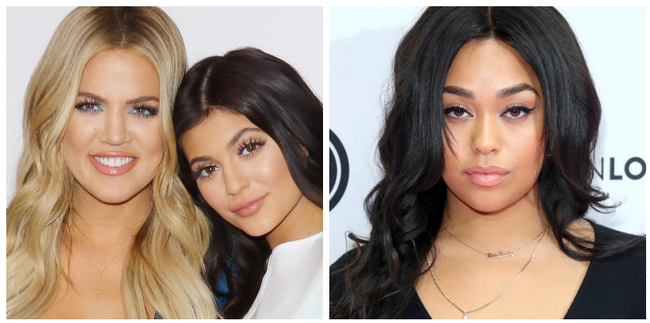 Khloé Kardashian and Kylie Jenner are distancing themselves from Jordyn Woods after she allegedly cheated with Khloé's on-again, off-again boyfriend Tristan Thompson, whom she shares daughter True with. 
Kylie's BFF modeled for Khloé's clothing line Good American and was also a brand ambassador. The 21-year-old has since been removed from the website. Jordyn's profile has been wiped from the #GoodSquad page entirely, and a link to her original profile now provides an error message.
Her "Jordy" lip kit is now gone as well. The collaboration – which Kylie dedicated to her bestie – was reduced to half price and is no longer available. That said, there are still some products in their Kylie Cosmetics collaboration still available for purchase. 
She also since moved out of Kylie's guesthouse and is reportedly back living with her mother. 
During an appearance on Thursday, February 22, the model broke her silence on the scandal. "Through everything that's been going on, you know it's been real, and Eylure has been super real," she told reporters while promoting the brand.
The Kardashians have also since spoken out. Quietly acknowledging the scandal on social media via quotes, emojis and on Twitter. 
Khloé posted a bevy of quotes, two of which read "The worst pain is getting hurt by a person you explained your pain to" and "Somebody needs to hear this…that betrayal was your blessing." 
Her sister, Kim, has been more blatant, blasting haters on Twitter, and defending her sister.
"A single mom has to work too boo!" Kim wrote in response to a follower questioning Khloé attending an event in the wake of the scandal. "This was a professional commitment planned far in advance and you better believe she is not waiting on anyone to pay her bills or provide for her daughter. PERDIODT!!!"
The Kar-Jenners have also since unfollowed Woods on Instagram. 

Ryan Seacrest
Ryan is quite simply one of the most influential, well-regarded, and well-known names in Hollywood. He is the quintessential Hollywood insider who always manages to have the biggest scoops and the most sought after access to top events and celebrities.
Read more