Sisanie Gets Real About Baby Separation Anxiety, Allergies and More
Almost 10 months! Sisanie's twins are 9 1/2 months old and going through a lot of changes. In the latest Twinning Tuesday, Sis shares that her daughter, Aiza, is suffering separation anxiety and her son, Maxon, might be allergic to eggs! 
"Aiza has been waking up in the middle of the night crying almost every night," Sis shares. "Our pediatrician told us its separation anxiety and to let her cry, but last night I caved and held her until she fell asleep in my arms." 
Aiza's brother Maxon is also dealing with is own issue: He might have a food allergy!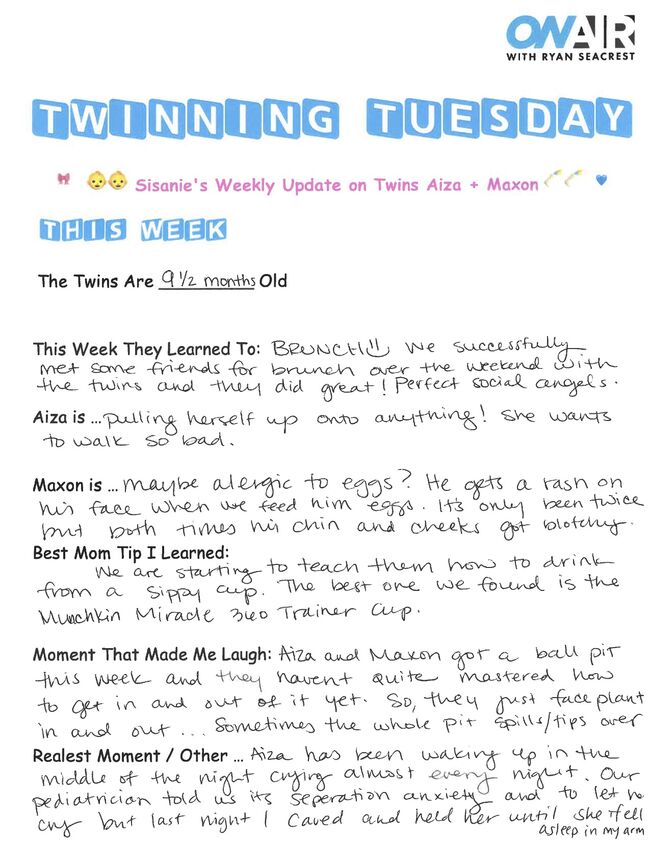 "Maxon is maybe allergic to eggs," Sis adds in the latest update. "He gets a rash on his face when we feed him eggs. It's only been twice but both times his chin and cheeks got blotchy." 
According to Parents magazine, foods that most often cause an allergic response in babies include cow's milk, eggs, nuts, peanuts, wheat, soy, fish, and shellfish. Experts also say that some allergies go away with time, including egg and milk allergies, but peanut, tree nut, and shellfish allergies tend to persist.
Each time you offer a new food, you should wait three to five days before adding another new item to the menu.
Check out the latest Twinning Tuesday above for more! 

Ryan Seacrest
Ryan is quite simply one of the most influential, well-regarded, and well-known names in Hollywood. He is the quintessential Hollywood insider who always manages to have the biggest scoops and the most sought after access to top events and celebrities.
Read more