5SOS, Chainsmokers Celebrate Michael's Recent Engagement, Talk Tour!
We can't get enough of this collaboration. The Chainsmokers and 5 Seconds of Summer's Drew Taggart, Ashton Irwin, and Michael Clifford stopped by On Air With Ryan Seacrest on Thursday, February 14, to celebrate everything from their recently dropped track "Who Do You Love" to their upcoming joint tour and even Michael's recent engagement to girlfriend Crystal Leigh. 
"We've been trying to do this song for a long time and we've just been waiting for the right time," Drew shared with Ryan of the collab. "We hung out with them during all the holiday shows and have you seen these guys live? They're a force to be reckoned with!"
The catchy, electronic track with lyrics revolved around infidelity is a first for 5SOS, who were excited to expand their catalog with the Chainsmokers, who previously announced they'll be working on a string of collaborations, including with Blink 182.
"The reason we wanted to do a song with these guys is we've never had anything remotely close or in the dance world so it's unique to us and it's challenging," 5SOS added. "… This is the first time we've ever done anything like this."
"We always like to write about the darker things and be cynical, but not too cynical, about relationships and our generation and the way we interact with each other," Drew added of the song's message.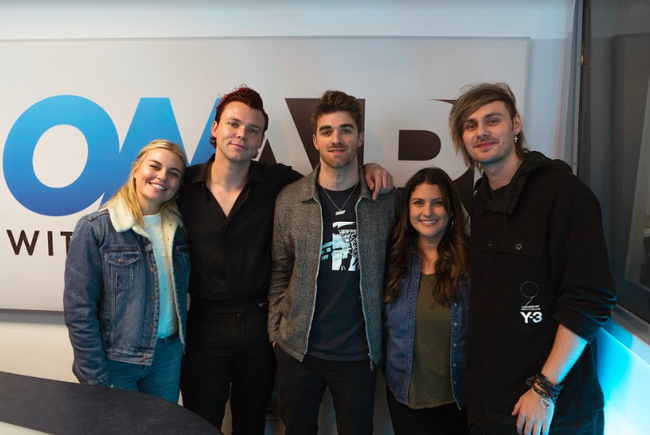 Speaking of relationships, 5SOS' Micheal recently popped the question to longtime girlfriend Crystal after three years of dating. Tanya Rad brought up Michael's romantic Bali proposal, which included a tent and sweet memories of them printed out, along with the song they listened to during their first kiss, the 1975's "Medicine."
"It was foreshadowing," Michael admitted when Tanya brought up the 1975 track's lyrics about marriage. "Um, yeah, I mean, I'm sure as hell not going to say no right now," he joked. "Songs are very important and when you get married and have that wedding dance that song could make you cry." 
Watch back the full interview in the video above for more, including to find out if Michael's started wedding planning! 
Click here for tour information and tickets!

Ryan Seacrest
Ryan is quite simply one of the most influential, well-regarded, and well-known names in Hollywood. He is the quintessential Hollywood insider who always manages to have the biggest scoops and the most sought after access to top events and celebrities.
Read more