Sam Smith Dishes on Single Life, Using "Instagram As a Dating App"
We couldn't relate more. Sam Smith stopped by On Air With Ryan Seacrest on Friday, February 1, and dished on everything from how he teamed up with Normani on hit single "Dancing With a Stranger" to why he wants to take himself less seriously and more. 
"Recently, with music, I'm trying to be a bit more fun," Sam told Ryan Seacrest on-air. "I'm trying to be less serious."
He's not, however, ditching the honesty of his lyrics. In new track with former Fifth Harmony member Normani, newly single Sam sings about dealing with a breakup by moving on with others.
"It's about going through a breakup and you didn't want it to happen and you're just sad and you take out your sadness on someone else's body," he hilariously admitted. "When I was writing it, I was going through that and I felt numb and there's a numbness to that song … I was spending a lot of time disco dancing."
The four-time Grammy winner collaborated with Normani basically on a whim, revealing that he played the track for the songstress after running into her in the studio the same day he wrote it.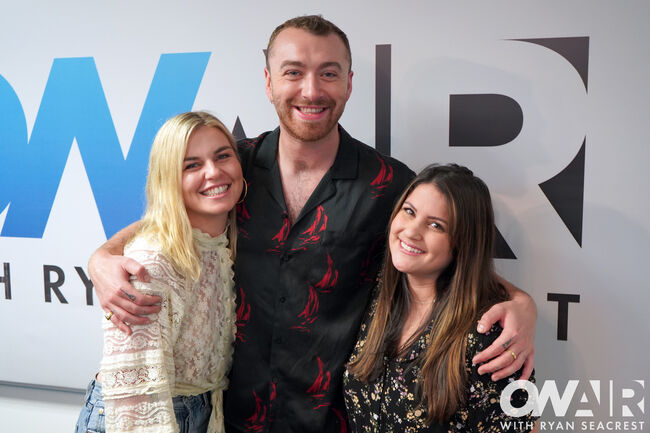 "She was having a meeting there with some of the people that work in studio and I was like 'Do you want to jump on the song?'" He shared. "I played her the song and she jumped on it then and there. … We'd written it that day." 
In the music video, Sam can be seen swiping on dating apps, so does he use dating apps in real life?
"I kinda use Instagram as a dating app, but I've never used a dating app, a tool," Sam admitted. "Before I got well known I did go on Grindr, … but that ended very quickly."
Listen back to the full interview in the video above to hear more, including why Sam wants to go about his music "in a lighter way" for his own sanity and more.

Ryan Seacrest
Ryan is quite simply one of the most influential, well-regarded, and well-known names in Hollywood. He is the quintessential Hollywood insider who always manages to have the biggest scoops and the most sought after access to top events and celebrities.
Read more