Armie Hammer Recalls Surreal Experience Meeting Ruth Bader Ginsburg
Armie Hammer's experience playing Ruth Bader Ginsburg's husband, Marty, in headline-making film On the Basis of Sex has earned him more than just award season buzz. The actor phoned into On Air With Ryan Seacrest on Wednesday, January 9, and shared with Ryan Seacrest that the opportunity to meet and work with Ruth Bader Ginsburg was an incredible, once-in-a-lifetime experience he'll never forget.
Ruth Bader Ginsburg has become a cultural and historic political icon, thriving in the face of adversity and fighting against gender discrimination, becoming the second female justice of the U.S. Supreme Court after being appointed by President Bill Clinton in 1993. In the film On the Basis of Sex, Hammer portrays Marty, Ruth's husband, who played a critical role in her career.
"I was thrilled to learn everything about him," Hammer told Ryan on-air. "I didn't know anything about him and really by his own design. He was a guy who preferred to stay in the background. In it of himself, he was an incredibly accomplished and arguably one of the best tax attorneys in America, … but he also preferred to stay in the background and just do whatever it took to support his wife. He believed that she was on an important mission to change the world, and because of Justice Ruth Bader Ginsburg, she did and because of his support … she was able to change the legal landscape of the world we live in today."
Hammer stars alongside Felicity Jones in the film, who plays Ginsburg.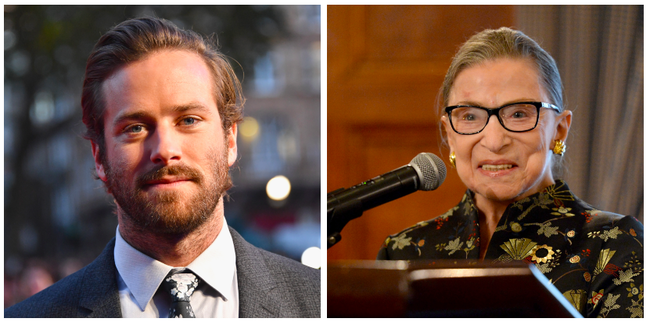 "It was incredible," he continued of meeting the icon. "She was so generous with her time. She invited us to the Supreme Court. We met with her in her private chambers which was just so — it was really kind of overwhelming because you get to the Supreme Court and you're screened by the Department of Justice — they want to make sure you're safe to meet these justices — and we walk into her private chambers and there she was just standing there — this woman who is incredibly notable and accomplished and she was there all about 5'2" of her and it was just this amazing time."
The award-winning actor continued that they spent all afternoon with Ginsburg.
"At the end, she was like, 'Well, would you guys like to go to dinner?' And we were like 'Hell yeah! Let's do this!'" Hammer added. "… She was just really open with us. It was amazing."
The script was written by Ginsburg's nephew Daniel Stiepleman, which Hammer explained put them in the best position for the film's accuracy.
"We were really lucky because then we were really able to get the inside of the family," he concluded. "If anyone else had wrote this, it would have turned into probably more like an Aaron Sorkin-courtroom drama … She sort of vetted every single draft of the script he wrote and the notes always pertained to the accuracy of the law and the accuracy of the portrayal of her husband and those were the two most important things."
Listen back to Armie's full interview in the audio above and catch On the Basis of Sex out in theaters now!

Ryan Seacrest
Ryan is quite simply one of the most influential, well-regarded, and well-known names in Hollywood. He is the quintessential Hollywood insider who always manages to have the biggest scoops and the most sought after access to top events and celebrities.
Read more